Have you thought about hosting a live show of your podcast but weren't sure how to go about it? Live podcasts are becoming increasingly popular for all good reasons! Going live offers your audience a unique interactive experience that is more engaging than pre-recorded audio.
This blog post will give a detailed insight into the fundamentals of setting up a live podcast, including the equipment and software needed, strategies for promotion and audience engagement, and essential tips on creating compelling content.
Read along if you want to start broadcasting live in no time!
Related: Best Podcast Recording Software for Mac and PC
How is Live Podcasting Different Than Recorded Podcasting?
Live podcasting is an increasingly popular way for podcasters to engage with their audience through a live broadcast.
Unlike a pre-recorded podcast edited and published after the recording, live podcasting streams are delivered to audiences in real-time without post-production editing.
Creating a live stream provides excellent opportunities for live audience Q&As, giveaways, interacting with guests, and constantly testing out new ideas that can be quickly adapted and changed on the fly.
Audience engagement acts as a driving force when live podcasting. This feature has successfully offered listeners exciting new experiences and insights they may not have otherwise encountered in pre-recorded shows.
Types of Live Podcasts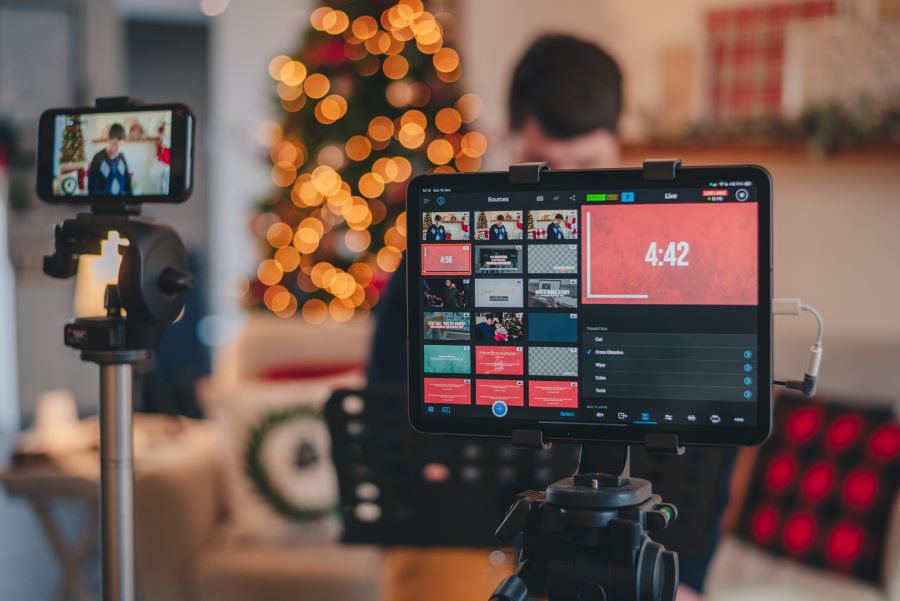 Live podcasts are broadcasted events that allow podcast creators to reach their audience on a new platform.
Podcast streaming requires cameras, microphones, and recording software to broadcast live.
Although live podcast events can come in different shapes and sizes, they offer unique benefits, such as two-way conversations with viewers and guests and more engagement opportunities than regular podcasting formats.
There are two types of podcasts.
1. Audio Podcast
Audio podcasts are becoming a popular tool for live streaming. Audio has great potential to reach individuals and broaden the audience via live broadcasting.
It is easier to start podcasting with audio podcasts as they require minimal equipment.
From providing live coverage of game tournaments to hosting live question-answering sessions, audio podcasts offer various features and deliver advantages that help reach larger audiences more effectively.
Whether you're looking to broadcast live content or start your podcast, audio podcasting could be a great way to engage with your target market.
2. Video Podcast
Video podcasting is quickly gaining traction as a powerful live event marketing tool.
It can capture the live recording of an event and integrate a video element in which the audience feels connected with the content.
From live interviews to roundtable discussions to panels and more, podcast hosting in a live video setting is gaining immense popularity. With this tool at your fingertips, many live events have seen a surge in attendance and engagement.
As it continues to evolve, adding elements such as interactive polls, chat dialogue, and more into live broadcasts, video podcasting looks like a practical component of any marketing effort.
How to Broadcast a Live Podcast
Broadcasting a live podcast is a great way to engage and connect with an audience in real-time. Producing a successful live podcast episode requires the right podcasting gear, recording setup, and an understanding of your equipment.
Of course, broadcasting live means that sound quality may not be perfect throughout, so even with a perfect setup you'll need to adjust quality expectations when the show is live. Anything can happen after all!
For basics, you'll need an internet connection, a recording device (laptop, mobile, etc), and a broadcasting platform that will provide options for hosting and broadcasting your podcast.
Here is a comprehensive guide on how to broadcast a live podcast event.
1. Generate Buzz
Before you go live with your podcast episodes, creating buzz and engaging with your loyal listeners is vital to ensure they have all the details they need to attend.
It can be as simple as utilizing traditional podcast platforms such as iTunes or Spotify or live streaming your podcast through YouTube.
Publicizing the podcast without fail is also essential—use social media platforms like Twitter or Facebook, where you will likely have a loyal audience looking forward to hearing new podcast episodes that yield valuable insight on the topics communicated.
2. Choose a Platform for Live Broadcasting
Choosing the right streaming platform for your live podcast is essential – it can affect how you interact with your target audience and reach potential new listeners.
Consider streaming platforms specialized in podcast broadcasting, such as Anchor or Podbean, and streaming services with broader appeal, such as Twitch and YouTube.
If you have multiple hosts for your podcast, check that the platform allows multiple people to access it at once.
Cross-posting from streaming platforms to social media channels can boost engagement with viewers and spread the word about your show.
Some of the best live podcast broadcasting platforms are Riverside, Podbean, Spreaker. These platforms will handle broadcasting to multiple destinations automatically for you.
In addition to this, some other platforms that social media influencers like to use for live podcasting include:
3. Look Into Possible Tech Issues
Ensuring your podcast is free of background noise and technological issues before you hit record is key to producing a successful live broadcast.
Podcasters need to take the time to look into possible technical issues beforehand to make sure their regular podcast recording goes as smoothly as possible.
Double-checking audio connections, attaching a pop filter to the microphone, and testing background noise levels in the environment are also essential to fulfill the purpose.
An extra few minutes spent averting potential tech setbacks ensures that content sounds clear and saves time in the long run.
4. Pick a Suitable Time
When picking a suitable time for podcast streaming, there are a few critical points to consider.
Consider audience members from different geographical time zones who may be watching the live show.
Also, be mindful that streaming the podcast often takes longer than expected, so ensure you have ample time for your selection.
Things That You Need for a Live Podcast
Utilizing live streaming to broadcast your podcast can be an intimate experience for your audience, and it's a relatively new venture that most young people like.
With the basics of what you need for interviewing people already covered with your existing gear if you're already podcasting, investing in a few extra pieces of equipment could give you the complete guide to creating a successful live stream.
Microphone
A live podcast's first and most crucial point is to have a good microphone.
Whether you are in a quiet place or your guest is hundreds of miles away, audio quality for podcast streaming can be the difference between providing an exciting listening experience to your audience or leaving them wanting more.
Selecting the suitable model of a good mic that fits your needs and budget should have connectivity options such as USB and be able to pick up voices clearly from an average distance with instant feedback.
If you want to record audio-only podcasts, opt for a traditional audio microphone with an XLR connection that requires an audio card or interface to connect to your computer.
Related: Best Microphones For Recording in Podcasting
Camera
A live stream for your live podcast episodes needs to be visually engaging, just as the audio is essential. With a quality camera, your live podcast will attract listeners' attention.
When choosing the right camera for podcasting, you have four options:
Using a smartphone to record
An internal webcam
An external webcam
A DSLR or mirrorless camera
Each option provides a different quality and effects that will help you create live podcasts efficiently and effectively.
Related: GoPro for Video Podcasting
Studio or a Reserved Venue
To live stream a podcast, one must have a fully-equipped studio. A well-designed live podcast studio ensures crisp audio quality and a better audience experience.
Your setup must reflect professionalism and taste to be successful in live broadcasting and garner respect in the live-streaming community. Technically, you'll want to invest in sound insulation pads to guarantee that pesky neighbors or outside noise don't interrupt your broadcast.
It would help if you opted for an entire room with soundproof walls to ensure clear audio quality in real time.
Related: How to Set Up a Bedroom Recording Studio + Ideas
Lighting
Lighting is one of your top priorities when live streaming, whether a live podcast or any other content. Good lighting can make the difference between having viewers tune in for the long haul and viewers quickly hopping off to something else.
Fortunately, getting good lighting for your live stream can be simple and inexpensive.
Whether you're live streaming through Podbean Live, YouTube Live, or Facebook Live, there are many solutions available such as simple LED lighting kits or even a ring light–all of which provide high-quality illumination that will leave your audience feeling engaged with your stream.
Choosing the right lighting solution for your podcast streaming will ensure that everyone who is live streaming gets their message across in the best possible way.
Related: How to Create and Use a Podcast Background Video Effectively
Engaging Content
Live podcast streaming is becoming increasingly popular, and podcast hosting services, such as Apple Podcasts, Spotify Live, and RadioPublic, provide excellent ways to make content available to a broad audience. However, podcast creators need to be sure that the content they offer through these services meets the highest quality standard.
Credible content is essential for live podcasting, ensuring the podcast is informative, engaging, and accurately sourced.
When there is an abundance of audio files available for streaming on podcast streaming platforms, having well-written and thoughtfully researched content will ensure that listeners stay engaged with the podcast and keep coming back for more.
Podcast creators can maximize the success of their podcasts by thoroughly researching their subject matter and producing credible content.
Related: Best Ideas For Podcast Segments
Broadcasting Platform
Hosting live podcasts has never been challenging, thanks to various broadcasting platforms.
You can easily broadcast your show on various social media channels and accept audience call-ins for a Q&A session.
After the show is over, you can even download a glitch-free file of your episode, which can be repurposed and published on Google Play or any other platform of your choosing, making sure all your listeners are on the same page.
Related: How To Make An Exceptional Video Podcast
Benefits of a Live Podcast
Podcasting is a great way to build communities and strengthen relationships. Live streaming your episodes creates a sense of authenticity and trust that attracts more listeners.
This results in an intimate, interactive experience for those tuned in as they can pose questions and comment, creating stronger connections between the consumer and the creator.
The growing trend of live streaming has resulted in a staggering 63% of Millennials regularly consuming these content formats, showing great promise for future growth as younger generations continue to flock toward live media on a larger scale.
Audience Engagement
Live podcasts are an exciting new way to provide current and potential audiences with engaging content in real-time.
They allow for interactive participation from the audience by enabling direct dialogue between broadcaster and listeners, and they also improve overall viewership retention.
Live podcasts give audiences a sense of immediacy and intimacy that pre-recorded versions cannot match, making them a precious tool for long-term audience engagement.
No Time Limit
Having a live broadcaster available to podcast fans anytime is truly a blessing.
Not having to wait for the next launch date but being able to connect with the host at any time can give listeners a sense of connection and immediacy that regular podcasts don't have.
The ability of a live podcaster to go on air anytime they need goes beyond convenience; it allows them to be connected with their audience, enabling exchanges and discussions in real-time.
Originality
Podcasting allows podcasters to express their thoughts and feelings without manipulation or editing. Their show's live stream allows the content to air in its raw state, giving the listener total authenticity of whatever they're feeling. What makes podcasting so special is that the listening experience is very personal and provides a unique connection between the host and listener that cannot be found elsewhere.
Live podcasting allows people access to honest conversations. Though it may be simple, podcasts can significantly impact society by giving a voice to people who may not otherwise have one.
Related: How To Record Podcast Shows
Conclusion
Live podcasting is a fantastic way to delve deeply into a topic, engage with listeners in real-time, and receive instant feedback. With the help of platforms like Podbean Live, it's always been challenging to start and broadcast your live podcast.
Start by setting up your studio, inviting guests, and broadcasting content on topics about which you're passionate. It truly adds another layer to your content where you can hear direct reactions or questions from your audience; use this to improve and modify the quality of your show going forward.
Whether it's for entertainment and comedy purposes or amplifying current topics under discussion in the community at large, live podcasting can provide endless opportunities to connect with the world around you.