Planning to start a podcast? Do you need help figuring out where to start or what equipment you need?
This guide will walk you through planning and launching your successful podcast. Whether you're looking to reach a new audience or want to get your voice out, a podcast can be a great way to engage with listeners worldwide.
So let's get started!
An Overview of Podcasting
For those unfamiliar with the term or with limited knowledge, a podcast is an audio file published on the web that can be downloaded and played on any device. Podcasts are typically episodic and cover a wide range of topics, from business to comedy.
Podcasts offer an intimate connection between listeners and content creators, allowing deeper engagement with your audience. Podcasts can be found on Apple Podcasts, Google Podcasts, etc.
Planning Your Podcast: Factors to Consider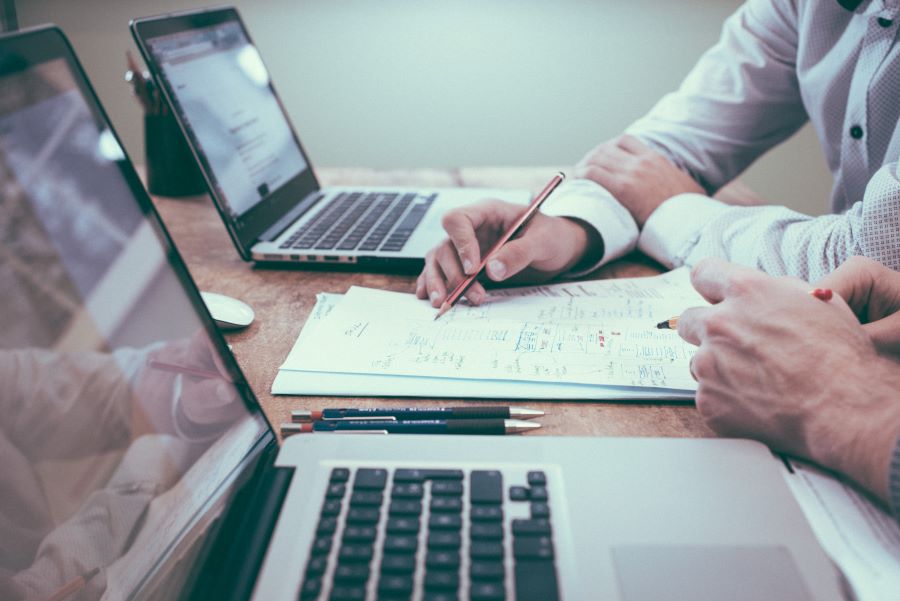 Now it's time to get planning. Planning your podcast is necessary because it will help you to create content that is engaging, consistent, and of high quality. So, here is a comprehensive step-by-step guide for you.
Purpose of your Podcast
First, you'll need to determine the purpose of your podcast. Are you planning to use it as a platform for education, entertainment, or a mix of both? Your goal should be to provide value to your listeners and create content that they will enjoy and learn from. Once you have determined the podcast's purpose, you can create an outline of the topics and content you want to cover.
Content and Format
After deciding on the purpose, determine the format and content for your podcast. Will it be a scripted show, an interview series, or something else? You should also decide how long each episode will be and what type of language you are planning to use.
Equipment
You'll need a few pieces of equipment to get your podcast up and running, such as a microphone, recorder, headphones, and computer software for recording & editing. Other optional items include a pop filter, mixer, and soundproofing material. You can read our Podcast Starter Kit guide for more info.
Distribution
Once you have created the content for your podcast and have the necessary equipment, you'll need to decide how and where to distribute your podcast. There are a variety of podcast hosting services that can help you get started. You can also use social media platforms such as Twitter, Facebook, and YouTube to promote your podcast and reach a wider audience.
Related: Best Podcast Hosting Platforms
Choose a Topic
What theme or topic do you want to focus on? Will it be informative, entertaining, educational, etc.? Do the research and identify a specific niche so people can easily find and tune into your show. Once you have decided on a topic, start planning specific episodes. Learn more from our list of Podcast Topics Ideas.
Launch Your Podcast
Now that you have a plan, it's time to launch your podcast! You can do this by creating an audio file for each episode and uploading it to the podcast hosting service of your choice. Promote your podcast on social media, share it with family and friends, and use press releases to reach.
Before we move any further, It is to be noted that creating a podcast episode is not a piece of cake. So, you must pay time planning your podcast episode structure. To make it professional, here is a 7 easy steps guide.
Related: What Are The Disadvantages Of Podcasts?
Podcast Structure in 7 Easy Steps
A podcast episode is different from other forms of media and requires a high level of planning and preparation. You need to create a great episode outline which is difficult, but we have got you covered.
Step #1. Plan for the length of your episode
Planning the episode length is important as it will help you determine what content to include and how much time to dedicate to each topic. Generally speaking, podcast episodes should be between 20 minutes and an hour long. Each episode of your podcast may vary in length depending on the topic. For an in-depth guide, you can check out our article, "How Long Should A Podcast Be?"
Step #2. Create a storyline
You'll need to create a clear and engaging story arc for every episode. Identify key points that need to be covered for the listener to gain valuable insight or entertainment from the episode. The podcast script should be great. It's a creative process to start! Check out our a guide on How to Write a Podcast Script.
Step #3. Introduce the episode
This helps to build interest and gives the listener a sense of what they can expect from the episode. Here are some examples of acts you can use to engage your audience for the first time:
Set the scene: What is happening in the episode, and why should listeners care?
Introduce key characters/experts: Who are they, what do they bring to the episode, and why should listeners listen to them?
Ask questions: Ask interesting questions or share thought-provoking ideas that will get people thinking.
Once the introduction is complete, it's time to dive into the content. Depending on the topic and length of your episode, you can break down each section into shorter topics or segments.
This will help keep listeners engaged throughout the podcast and make it easier for them to follow along.
Related: How to Create An Engaging Podcast Intro
Step #4. Wrap up the episode
Once you have finished the content of your podcast episode, it's time to wrap it up. This is your opportunity to summarize the episode's main points and give your listeners something to think about. It is also a great way to include any additional resources or information related to the topic you discussed in the episode.
The last segment of your episode is really important because it's the one that will linger in your listeners' minds after they finish listening. Make sure you leave them with something to remember and look forward to in future episodes.
Here are some wonderful ideas to end your podcast episode:
Ask your listeners to share their thoughts on the episode or discuss a question you posed throughout the show.
Invite your audience to connect with you on social media and leave a review for the podcast if they enjoyed it.
Give a shout-out to any guests who appeared in the episode, thanking them for participating.
Preview your next episode, giving listeners a sneak peek of what's coming.
Give a call to action to anyone that wants to get involved with the podcast or any related events.
Thank your audience for tuning in and reminding them when the next episode will be released.
Step #5. Thank your guest and listeners
Finally, don't forget to thank your guest(s) and listeners for tuning into the episode. A simple "thanks for listening" can go a long way towards building loyalty and showing appreciation for their support.
Step #6. Promote your next episode
It's a must for a podcast host! Promoting your new podcast episode is a great way to keep listeners engaged and excited about what's coming up. Please give them a brief teaser of what they can expect from the next episode and encourage them to stay tuned. Plus, don't forget to thank them for their continued support!
Step #7. Encourage reviews and feedback
Encouraging your listeners to leave reviews on your podcast app or website can help you reach new audiences and boost the visibility of your show.
You can also encourage listeners' feedback by asking questions in the episode or through social media channels. This will help you gain valuable insights into your podcast's performance, and what kind of content resonates with your audience.
By following these steps, you can ensure that your podcast is successful and engaging for your listeners.
Related: Start a Podcast People Will Listen To
Things to Remember
Choose Suitable Music and Sound Effects
Music and sound effects can add production value to your podcast and make it more memorable. Make sure that any music you use is properly licensed in podcasts. You can also choose from our list of Best Royalty-Free Music For Podcasts.
Practice Before Recording
Planning out the structure of your episode is also included in the podcasting process, as it will make a big difference. It's important to run through the entire episode and practice any transitions or sound effects you plan to include. Practice the talking point!
Edit and Publish
After recording, use audio editing software to fine-tune the episode and add music or sound effects if necessary. Choose one of the podcast formats. Finally, upload the file to your podcast hosting service and launch your show!
Bonus Tips
Your job is not finished yet. Here are some important post-publish things you need to give attention to.
Give listeners a chance to connect with you
You must build relationships with your audience. Offer an email address or social media account where they can reach out, ask questions, and leave feedback.
Cross-promote your podcast
Share links to your podcast on other platforms such as YouTube and Twitter. This can help you reach new listeners and remind existing ones to tune in.
Make sure your show is optimized for search
Optimizing your podcast for search engines will make it easier for people to find your show. Use relevant keywords in each episode's title, description, tags, and tools such as iTunes Search Ads to help spread the word about your podcast.
Monitor your analytics
Regularly check your podcast's performance by tracking downloads, reviews, and listener feedback. This can give you an idea of how well it performs and help you adjust your content to suit your audience's needs better.
Properly promote your podcast
Once it's life, promote it so you can reach out to the right people and spread the word about your show.
Use social media platforms
Utilize social media platforms and even email campaigns to let people know when you've launched a new episode.
By following these tips and planning your podcast carefully, you can be sure it will succeed. With the right planning and execution, your podcast can become an engaging and popular show!
Podcast Cover Art
Creating an attractive cover art for your podcast is one of the most important planning steps. It's the first thing potential listeners will see when they come across your podcast, so it's essential to ensure that your cover art looks professional and conveys the right message about your show.
Consider the type of show you're planning and your target audience before deciding on a specific design.
Consider what colors and images best represent your show, and that will capture listeners' attention.
Don't forget to include any logos or branding elements that you want to feature prominently.
Planning a podcast cover art is an important step in planning your show, so make sure to give it the attention and care it deserves!
Related: Podcast Cover Art Dimensions: Everything You Need To Know
Conclusion
Podcasting can be a great way to reach new audiences and share stories, knowledge, and experiences with the world.
With a little bit of planning and preparation, you'll be well on your way to launching a successful podcast.
While planning and launching a podcast may seem daunting at first, planning your show from start to finish is essential for success.
By following these tips, you'll be well on your way to creating an engaging, successful podcast that will reach new audiences and capture their attention. Good luck!
Frequently Asked Questions (FAQs)
Q: What equipment do I need to get started podcasting?
A: You will need a computer, microphone, audio recorder, and editing software. You may also want to invest in headphones for better sound quality.
Q: How can I promote my podcast?
A: Promoting your podcast is essential for growing your audience. Utilize social media platforms, email campaigns, and even cross-promotion with other podcasts to spread the word about your show. Additionally, offering exclusive content or rewards can help you engage with listeners and encourage them to return. Here's our complete list on Podcast Promotion.
Q: How long should my podcast episode be?
A: Generally speaking, podcast episodes should be between 10-30 minutes long. This can vary depending on the content and format of your show, but it's a good rule of thumb to follow.
Q: Can I make money from a podcast?
A: You can monetize a podcast by offering sponsorships or advertisements. You can also offer exclusive content or access to your audience in exchange for payment. For further reading, check out our post on How to Make Money Podcasting.
Q: How much do podcasters make?
A: The exact amount varies from podcaster to podcaster. Your audience size, content type, and advertising deals can affect your income. Generally speaking, podcasting can be a viable source of income for those willing to invest time and effort into building their show. Read our post on How Can Podcasters Make Money on Spotify? to learn more.