Discord enables you to communicate with like-minded individuals or professional connections and collaborate on projects, which often means your Discord conversations are essential, adding tremendous value to your podcast — whether or not you decide to use snippets of the conversation for research or in interviews.
The only drawback is that while Discord is an ideal platform for collaboration and communication, there isn't a function allowing you to record calls.
However, with a bit of ingenuity and the right third-party apps that change and you'll be able to record calls on Discord — here's how.
Related: How To Edit A Podcast In Audacity
Record Discord Calls with Audacity
There are an array of options to record Discord calls, but one of the most efficient — and most likely your best option — will be Audacity. Most podcasters and content creators already use Audacity to record and edit audio, as it has robust features, is easy to use, and can be used on any desktop operating system, including Windows, macOS, and Linux.
Of course, it helps that Audacity is a free download, so there's no reason not to test it when recording voice calls. And although Audacity is user-friendly and fairly intuitive, you can save yourself some time by using the steps below to get started on Audacity.
Step 1: Download Audacity
If you don't have Audacity installed, start by visiting this download link: https://www.audacityteam.org/download/
You'll then need to select your preferred download for your PC specs; this includes Audacity download for the latest Windows (32-bit or 64-bit), macOS, or Linux. But if you don't have the latest OS, you can select one of the legacy versions.
Once you've downloaded Audacity, run the downloaded software.
Step 2: Select Your Recording Preferences
If you haven't used Audacity before, the biggest mistake you can make is to forget to select or update your recording preferences, meaning that you'll likely be using the default settings: your PC speakers.
You can change this by selecting a recording device that enables you to record your voice and those on the call. Typically, this will be your headset microphone.
You'll have to tweak a few settings on Discord to ensure audio input is done through your headset microphone and output is your PC speakers are set at 100%.
Step 3: Start Recording
Before you record Discord audio, it's important to note that recording conversations in some regions of the world are not allowed. You may want to check the Terms of Service on Discord for your area and those participating in the call, in addition to the laws governing multi-party call recording.
If everyone you'll be recording consents to the call, you shouldn't have any problems crop up later.
Once the legalities are squared away, remember to click the red record button to start recording and enter the Discord server.
Step 4: Stop Recording
Unless you want hours of audio to sift through, be sure you end the recording once the call is over using the stop button. You can then save and export your recording if you're satisfied with it. You can select any file format for your preference, although .wav is typically preferred. If you still want to work on your project, you can save it as .aup to continue working on it in Audacity.
Related: 17 Best Podcast Recording Software for Mac and PC [2023]
Record Discord Calls with OBS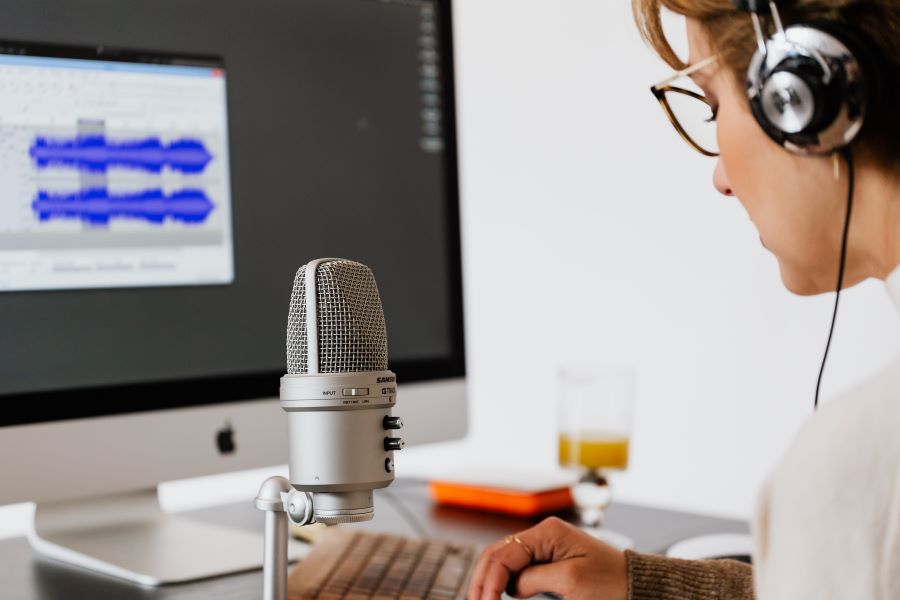 If you're searching for a simple audio recorder with no bells and whistles, OBS — an acronym for Open Broadcaster Software — is a great option to record audio and video calls, as the popular app allows you to record both.
Best of all, OBS Studio is so easy to use, enabling you to start recording your Discord calls in three steps.
Step 1: Download OBS
Visit https://obsproject.com/ to download the software, and select the option suited to your PC specifications.
Step 2: Select Your Audio Output Capture
Once you've run the software, navigate to a section titled "Sources" and select the "+" symbol on the menu.
A drop-down menu will appear. You need to click on the "Audio Output Capture" from among the options to ensure you're recording audio from your desktop followed by the "OK" button.
Next, navigate to "Properties" and select a device for output, either your speakers or your headset.
Step 3: Start Recording
After you've set up your output audio, select "Start Recording" from the control menu. Remember to do this before you start the call on Discord.
OBS will also save the recording as an MKV file saved as the date and time of the recording.
Record Discord Calls on a Desktop with Discord Craig Bot
For a more official way to record your Discord audio calls, turn to the Craig Bot, which records your audio within Discord, meaning you don't have to download any external apps.
Craig is also unique in that enables you to record separate audio files, a recording feature that will come in handy when editing and allow for clearer audio capture.
To record using Craig Bot, follow the steps below:
Step 1: Invite Craig
Begin by visiting https://craig.chat, and select "Invite Craig to your Discord server." This enables you to make Craig an authorized add-on
Remember, to use Craig, you need to be the creator of the server.
Step 2: Log in to Your Discord Server and Authorize the Bot
Next, you'll be redirected to Discord to log in to your server, select the server you've created and click "Authorize."
A celebratory message will appear, indicating Craig has entered.
Step 3: Create a Discord Voice Channel
Enter a voice server, and input the command ":craig:, join".
You'll see the server appear under Craig, and the recording will begin.
Craig will record the audio as it's heard on Discord, making it sound clearer than if you were recording desktop audio.
Step 4: End Recording
To end the recording, use the command ":craig:, leave".
Step 5: Download Recording
After the recording ends, you'll receive a direct message from Craig, allowing you to download the audio as a multitrack or single track and warning you that, in 7 days, the recording will be deleted.
Select whichever format type is suitable to your purpose.
Record Discord Calls on a Mobile Device with Craig Bot
Just because you aren't using a desktop doesn't mean you can't record your Discord calls. Craig also allows you to record from Android devices and iOS devices.
Step 1: Invite Craig Using Your Web Browser
To start recording Discord on your mobile device, open your web browser and visit https://craig.chat and click on the invite button.
You'll be redirected to Discord to log in to your account.
Step 2: Select Your Server and Complete a Captcha Test
Next, select a server beneath the option "Add to Server." The server you choose must be a server you've created.
At this stage, you'll be required to complete a Captcha test.
Step 3: Open The App and Enter the Command to Start Recording
Now that you have Craig, you can launch the app and enter the command "craig:, join" to start recording. If you want to use the recording feature that allows Craig to record multiple channels, type the command "craig:, join general".
When recording is over, type in the command "craig:, leave" Craig will then send you a direct message with downloading options.
Conclusion
Discord can be a superior tool for your podcast, especially if you know how to use it effectively. It can help you plan topics with co-hosts, conduct interviews, do group research, keep things organized, and even get ideas from fans or collaborators.
Discord can even help you monetize your podcast by offering listeners premium access to your server.