Zoom is an excellent resource for podcasting. The video conferencing app allows you to record the microphone of each speaker, enabling you to isolate sound for a crisp recording. It also helps that most of those you would interview have a working knowledge of Zoom, making it easier to set up a meeting. Despite this working knowledge, you may still incur audio or video issues, requiring you to do some Zoom troubleshooting. It's this troubleshooting — where you can't figure out why someone can't see or hear you — that can reduce the time spent on the call and make you appear unprofessional. Enter the Zoom test meeting.
Related: How To Record A Podcast on Zoom
What Is a Zoom Test Meeting?
A Zoom test meeting allows you to test your audio and video before you join a meeting. The feature's purpose is to let you see and hear what others do without joining a Zoom call, which is very useful if you intend to do video podcasting.
Because you can do a test meeting at any time, you can perfect your look, lighting, and audio, giving you time to tweak your set-up before you need to join a call.
Why Would You Use the Zoom Test Meeting Feature?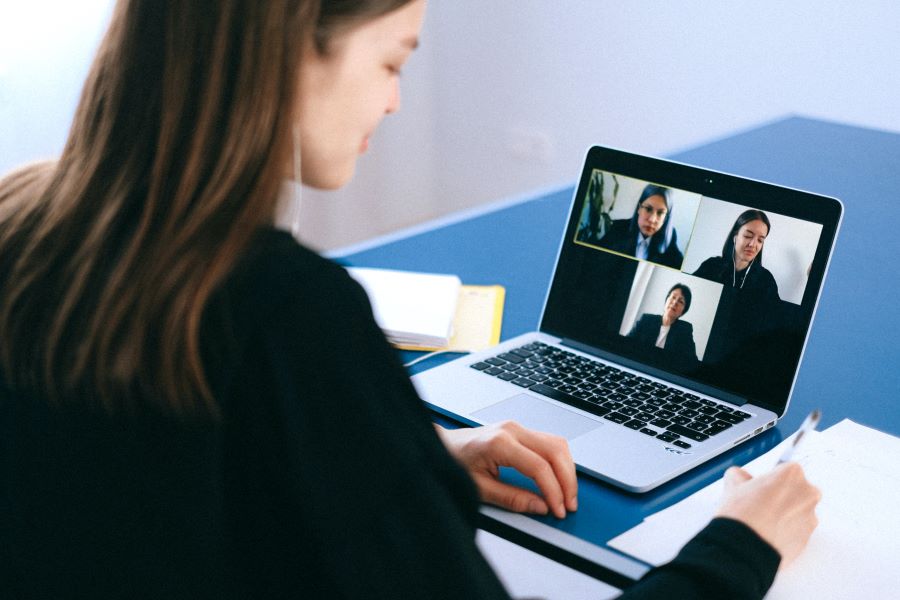 Even if you don't intend to use Zoom's visual component in your podcast, it helps to look and sound professional when conducting an interview.
Audio Integrity: You want to ensure that the microphone you're using sounds as crisp as it should and that there's no static noise emitting from it.
Video Integrity: For video, you can ascertain whether you look good on camera, your internet connection is strong, as that ensures there isn't any lag or poor video quality, and your lighting and background are suitable.
Of course, you could check these things while in the meeting, but that would be wholly unprofessional and limit your ability to troubleshoot or make changes to improve the sound or video quality.
Related: 17 Best Podcast Recording Software for Mac and PC [2023]
How to Test Zoom Meetings
Whether or not you're a regular Zoom user, it shouldn't take you longer than 15 minutes to complete a Zoom test meeting.
Something to keep in mind when you're conducting a Zoom test is to do it well before you have a meeting scheduled. Why? You may realize you have issues that need fixing; that's why conducting the test a day or two before the meeting allows you to rectify those issues and feel better prepared for the call. Doing it this way is far better than doing a hack job minutes before the meeting because you don't want to be late.
Download and Update Zoom
Before you can test the quality of your Zoom meeting, be sure you have the latest version of Zoom installed.
If you have the app on your desktop, open it and click on your profile picture. A drop-down menu will appear. Select "Check for Updates" on the menu. If there is a newer version of Zoom, it will be downloaded and installed.
In the case there isn't a "Check for Updates" option, you can still download the latest version of Zoom by visiting https://zoom.us and clicking the download link.
Check Your Peripherals
With the latest version of Zoom installed, check your peripherals.
Begin by setting up the microphone and webcam you intend to use. If you're using an external microphone or webcam, ensure that your settings capture the audio and video from these rather than your device's standard options.
You can update your microphone or webcam settings by updating your system's default settings or doing it through Zoom.
Using Zoom, navigate to your profile image and select "Settings"  from the drop-down menu.
To set up your webcam, select "video." You'll be able to set the aspect ratio and choose which camera Zoom uses to capture video.
To set up your microphone, select "audio."
You can select which microphone to record audio on, but you can also suppress background noise, test the microphone audio, and determine whether you want to mute your microphone on entry.
Related: Using Zoom H1n for Interviews: A Review
Join a Test Meeting
Now that you're set-up, visit https://zoom.us/test and select "Join." Zoom will prompt you with audio and video tests to ensure your audio and video are operating as they should. Once these tests are over, you will join a test meeting as an attendee.
How to Join a Test Zoom Meeting with a Mobile Device?
Joining a Zoom Test from your mobile device is similar to doing it from your desktop; the only difference is you'll be using your mobile app rather than a desktop app.
Download Zoom
Visit the App Store or Google Play to download the latest version of Zoom.
Configure Your Phone
While you don't have much in the way of configuration — you can't use a pro microphone or a third-party webcam — you can use things like a phone stand and a headset to improve the quality of your meeting.
Visit the Zoom Test Link
Once you've downloaded the app on your mobile, visit https://zoom.us/test and select "Join." You'll be able to join a test meeting from your phone and complete the configuration of your phone.
How to Join a Test Call From the Zoom App
Although you will be redirected to the app after visiting zoom.us/test, you have to visit the website first to join a test call.
Alternatively, you can listen to a playback of your microphone to ascertain how you sound by navigating to settings and selecting "audio" before conducting a microphone test.
Pre-Meeting Checklist
When conducting your Zoom meeting test, having a checklist handy ensures that you're ready for the call and your setup is to your satisfaction.
Assess Your Lighting
Lighting is critical to how you appear on camera because low lighting can distort your facial features or highlight shadows. Natural lighting is ideal, so try to find a place to set up close to a large window. If that's not feasible because natural lighting can also be unpredictable, consider using professional lighting in the form of a ring light or something similar. You can still set up close to a natural light source, but the ring light will keep the video quality consistent should the natural light conditions change.
Review Clothing Choices
If you intend to use visuals from this meeting for a video podcast, determine how your clothes appear on camera. Most things can appear distorted on camera, so a t-shirt or scarf may look perfectly fine in real life but make you look awkward or frumpy on Zoom.
Color matters as it can help your webcam adjust focus better.
Remember to wear appropriate pants in case you need to stand up midway through the call.
Review Your Background
Check what is in frame and assess if everything in frame is appropriate, professional, and inoffensive.
Related: How to Use Podcast Background Video to Enhance Livestream Experience
Test Your Audio and Video
Always check your audio and video before a call to ensure the settings haven't changed and you're still picking up audio and video from your preferred device.
Do Facial Warm Ups
To ensure you're enunciation, facial warm-ups are essential.
A basic one is to scrunch your face tightly for about three seconds and then open your mouth and eyes widely to mimic the shocked emoji. Repeat this process until your face feels warm and loose.
Do Voice Warm Ups
Your vocal warm-ups should include a series of lip trills, reciting a tongue twister, and humming in various keys. This ensures that your voice can go the distance during the meeting and has a rich quality to it, making your recording better.
Find a Quiet Spot
Interruptions are unprofessional, especially if they're avoidable. Therefore, find a suitable spot to conduct your Zoom meetings, where you can shut — and possibly lock — the door in a low foot traffic area that doesn't have much background noise.
If you can't find an ideal spot, you should consider warning those in the meeting that you'll be in a noisy area or could experience one or two interruptions.
Once you have your Zoom set-up perfected, when you conduct future Zoom meeting tests, you'll only have to ascertain if everything is still working as it should. Essentially, your Zoom meeting test will become a matter of lather, rinse, repeat.
Related: How to Find Your Zoom Recordings in Just a Few Simple Steps