Recording a great podcast can be simple. With Zoom, it's easy to record, edit and share your audio files with the world.
In this blog article, we will discuss how to record an excellent podcast on Zoom – from the initial setup of your recording environment to creating an outstanding final product.
All you need is access to a laptop or computer with webcam and microphone capabilities, Zoom, and whatever editing software you prefer! So prepare for some sound engineering tips and tricks as we prepare you for DIY podcasting success!
Related: Best Podcast Recording Software for Mac and PC
What is a Podcast
Recordings in the form of audio or video allow individuals to create and distribute content. Recording a podcast episode may be the perfect solution to discuss a specific topic.
Podcasts are available in audio and video podcast form, so consider what will work best for your particular topic. Also, various tools, such as Zoom, can make it easy to produce a top-quality podcast from anywhere.
Producing a podcast can also be relatively inexpensive compared to other forms of digital media. The possibilities for creativity in producing and distributing podcasts are endless.
Why Should You Record One?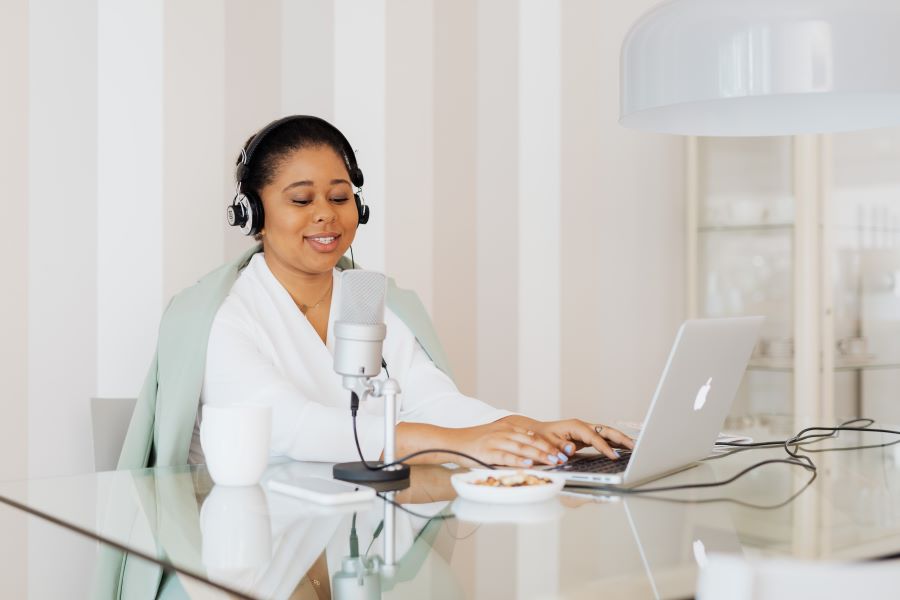 Recording a podcast is an excellent way to grow your audience and reach potential listeners. Not only can you record audio podcasts, but you can also create a video podcast using tools such as Zoom.
Recording a podcast episode requires skill and knowledge of the media landscape. Creating a successful podcast involves time and dedication, as well as coming up with engaging topics and content that will draw attention.
Additionally, making a video podcast allows for more interaction with your audience; videos create visuals that give podcast listening to an extra layer of engagement for your viewers! Record a podcast today so you can broadcast your ideas and stories to the world!
Step-by-Step Guide to Record on Zoom
Recording a Podcast on the Zoom app is an excellent way to share your thoughts, ideas, and stories with the world. To do it successfully, you'll need to follow a few simple steps:
Download Zoom
To get started,
Visit the Zoom website, https://zoom.us/
Download the program to your device
Run the installation package until complete.
With Zoom, you will be set up in no time and ready to begin having virtual meetings with colleagues, friends, and family. Enjoy hassle-free video conferencing with this convenient tool!
Create a Zoom Account
Creating a Zoom account is easy and can be done in a straightforward step. You need to register on the Zoom website using your current email or Google/Facebook account. Once you have completed this registration, you will be offered a free Basic plan with support for two to two-to-100 participants and unlimited one-on-one meetings.
You also can upgrade your plan based on your specific needs, such as adding additional storage or features like recording and Cloud Registrants. With all these options, setting up an account with Zoom is as easy as pie.
Setup Equipment
Once you have your Zoom account, it's time to set up your equipment.
To record a podcast on Zoom, you'll need a laptop or computer with a webcam and microphone.
You should find an area that is quiet or soundproof to minimize any background noise in the recording. And, of course, you'll need a strong internet connection.
Once you have everything set up and ready to go, you can start recording your podcast on Zoom.
Related: Podcast Mic Setup
Make your environment noise-free
Before recording your podcast, you should ensure that the area is quiet and noise-free. This will ensure that you have high-quality sound in the recording.
You can also use a pop filter on your microphone to reduce popping noises or breathing sounds while talking. And consider investing in a good pair of headphones to monitor how your podcast will sound.
Zoom audio settings for the best audio quality
Whether you're using the free or paid version of Zoom, a few settings about audio input will help optimize your podcast's audio quality.
One of the things to check is that the appropriate input and output devices are selected in your Zoom settings.
You must enable original sound and ensure that your computer's microphone is set as the default recording device.
Record separate audio files for each audio source (a microphone, a webcam, etc.) and set the recording quality to High.
It's also a good idea to enable automatic gain control, which will help reduce background noise and improve the overall audio quality.
If your microphone has a dynamic range, you should also use the correct settings in Zoom to capture the full range of high and low frequencies.
With these simple tips, you can set up your Zoom recording to sound clear and professional.
Start a New Meeting
Starting a new meeting on Zoom could not be more accessible with the laid-out steps. Before beginning, check your connection and camera setup and ensure that any audio devices you plan to use are plugged in and ready.
From there, you will need to open Zoom and navigate to the Meetings tab within your account. Create a new meeting by filling out all the necessary information, such as your desired time frame, topic, password protection preferences (if desired), etc., and click start when finished.
With this process of starting a new Zoom meeting, no matter if it is a small or large group gathering, it should just take minutes to set up!
Invite Guests
While meeting on Zoom cannot be simpler, inviting your guests can be tricky.
Just create a unique link for each guest that you can send over via email or text. This link gives your guests exclusive access to the virtual room where they can join with their computers or phones at the appointed time.
To ensure smooth connections and a pleasant experience, remind your guests to update the software before they join the meeting. Ensure all involved parties have read through relevant documents in advance and abide by the proper etiquette during a virtual gathering. Following these guidelines will help ensure an efficient and engaging meeting via Zoom!
Test Run
Once you have everything set up and ready to go, the best thing to do is conduct a test run.
This will allow you to check your video, audio, and internet connections to ensure everything is working correctly. It lets you practice your talking points and get comfortable with the Zoom interface.
Remember to allow a few minutes at the beginning of your meeting for any technical issues that may arise so you are ready to go from the start.
You can check out our in-depth guide on how to join a Zoom test call.
With a successful test run in place, you can rest assured that all your meetings on Zoom will be smooth, efficient, and productive. Good luck!
Start Recording
Once set up, you can start recording your Zoom podcast or recording video podcasts from your computer.
To do this, go to the Recordings tab and click the red Start New Meeting button in the top-left corner of the screen.
You will then be taken to a new page where you can give your recording a name, add a description, set the duration of your recording, and press Start Recording when you're ready.
Once you start recording, all your video and audio will be saved to your computer so you can review it later or share it with others. We also posted a guide for you to know how to find your Zoom recordings.
Editing the Podcast
Once you have your Zoom local recording in the Zoom Recordings folder, it's time to edit the podcast in the audio editor for professional audio.
To do this, you will need to download the recording from the Recordings tab to your computer.
Next, you can use various tools and software programs such as Audacity to edit out any unnecessary parts or fix audio issues with your recording.
You can also use software such as GarageBand or iMovie to add music and other effects to the recording. For a more detailed tutorial, check out our post on how to edit a podcast in iMovie.
Publishing the Podcast
The last step is to publish your finished podcast.
To do this, you must sign up for a hosting site that allows publishing media files, such as Libsyn or SoundCloud.
Once you have an account with one of these sites, you can upload the podcast file from your computer and share it with your listeners.
With a high-quality, edited podcast ready to be shared with the world, you can take your business or brand to the next level and reach a whole new audience.
Related: Best Podcast Hosting Platforms
Tips for Recording a Successful Podcast Episode
Choose the right microphone
Make sure your audio levels are balanced
Prepare a script and practice in advance
Speak clearly and enunciate your words
Have a good conversation flow and minimal pauses
Avoid background noise when recording
Record a separate audio file for each guest
Record at least two takes of each episode
Use sound effects to add interest or emphasize points
Invest in quality editing software like Audacity
Upload episodes to podcast hosting sites with RSS feed integration
Related: How to Create and Use a Podcast Background Video Effectively
Benefits of Recording with Zoom
There are many benefits to using Zoom for recording your podcast. Some of the key benefits include:
Reliable and easy to use
Zoom is a robust and reliable platform that makes it easy to record, edit, and publish your podcast.
It offers high-quality video and audio recording, a range of editing tools, and other features that can help you produce an engaging, professional-sounding show.
Flexible and customizable
Zoom offers a high degree of flexibility and customization as a web-based platform.
You can easily tailor your recording to suit the needs and preferences of your audience, using features like a variety of video layouts and screen-sharing options.
Integrated with podcast hosting sites
Zoom also integrates easily with leading podcast hosting sites, making it simple to publish your episodes and share them with a broader audience.
Cost-effective and accessible
Compared to other options for recording podcasts, such as dedicated recording equipment or software programs, Zoom is highly affordable and widely accessible.
This makes it an excellent choice for podcasters at any stage of their development.
Downsides of Recording with Zoom
There are some potential downsides or limitations to recording your podcast with Zoom. These may include:
Limited audio and video features
While Zoom offers a decent range of editing tools and other features, it still needs to catch up to some of the more advanced options available on other platforms.
As a result, you may not achieve the same quality of audio or video with Zoom as you could in other situations.
Potential for technical issues
Because Zoom is a web-based platform, it can be subject to occasional technical issues affecting your recording sessions.
If something goes wrong during a recording session, it can take time and effort to resolve the problem or work around it.
Limited support for large audiences
Zoom is primarily designed for individual users rather than teams or organizations with many participants.
If you have a large audience, consider looking into other options, such as live streaming instead of recording your podcast directly through Zoom.
Alternatives for Podcasters
There are several options to consider if you are looking for an alternative to Zoom for recording your podcast. Some good alternatives include:
Audacity
Audacity is a free, open-source software program that offers many features similar to Zoom but with greater flexibility and customization options.
It is a good choice for podcasters with some technical experience who want advanced audio editing capabilities.
Skype
Skype is a popular video conferencing platform that can also be used for recording podcasts with large groups or audiences.
It offers reliable performance, easy-to-use features, and a range of integration options for hosting your podcast files.
Here's a complete guide to recording podcasts on Skype.
Live streaming platforms
Live streaming platforms like Periscope, Facebook Live, and YouTube Studio are popular for podcasters who want to reach a large audience or engage with their listeners in real time.
These platforms offer many of the same benefits as Zoom but with additional features for live interaction and audience participation.
Related: How To Podcast Live
Conclusion
Zoom is a popular choice for recording podcasts due to its high degree of flexibility and customization, ease of integration with podcast hosting sites, cost-effectiveness, and accessibility. By following these steps, you can host a successful podcast on Zoom. This platform allows for interesting effects that can make your podcast more engaging for listeners.
However, there are some potential downsides or limitations to using Zoom for podcasting, such as limited audio and video features, technical issues, and limited support for large audiences. For these reasons, podcasters may explore alternative recording platforms such as Audacity, Skype, or live streaming platforms.
Have fun, and don't be afraid to experiment with new things!