Zoom recordings go to two places: either to a local folder (your documents folder by default) or are stored on the cloud depending on your settings.
You can change the default local folder to whatever folder you want if you are using local recordings. And you can access the cloud recordings via the Zoom app or via your account on the Zoom website.
Related: How To Record A Podcast on Zoom
Local Recordings
Local recordings are stored in the Zoom folder on your local computer. The files are named with the date, time, and participants' names. You can change the location of where local recordings are stored in your account settings under Local Recording.
Prerequisites
You have previously recorded a meeting locally.
A free Zoom account.
Latest version of the Zoom client.
Default Location for Local Recording Files
Zoom recordings are stored locally on your computer by default. The files are saved in the Documents folder. You can find them under:
Windows: C:Users\[Username]\Documents\Zoom
Mac: /Users/Username/Documents/Zoom
Linux: home/[Username]/Documents/Zoom
If you're unsure where your recordings are located, you can always check the Zoom settings to see what target folder is set up.
How to Change the Default Location for Local Recording
To change the location of your Zoom recordings, open the app and go to Settings. Under "Recording," you'll see an option for "Local Recording Location." Next, click the Browse button and select the new location where you want your recording files to be saved. Once you've made your selection, click "OK" to save the changes.
If you're recording a Zoom meeting for the first time, you may be prompted to choose a location for the file. If you don't see this prompt, it's likely because your recordings are being saved to the default location. But, of course, you can always change the recording location in the Settings menu if you need to.
How to Find and Convert Local Recording Files with The Desktop Client?
Have you ever needed to go back and listen to or watch a past Zoom meeting but couldn't find the recording? Zoom has made it easy to access your recordings, whether you want to watch or listen to them on your computer or mobile device.
You can go to the "Meetings" tab using the Zoom desktop client and click on "Recorded." You can choose the meeting you want to watch or listen to and select "Open" to open the recording folder on your desktop. Or, if you're going to play the recording immediately, you can tap "Play Video" or "Play Audio."
And that's all there is to it! Now you can easily access your past Zoom meetings anytime, anywhere.
Related: Best Podcast Recording Software for Mac and PC and How to Record a Podcast on Your Laptop
Recording on the Cloud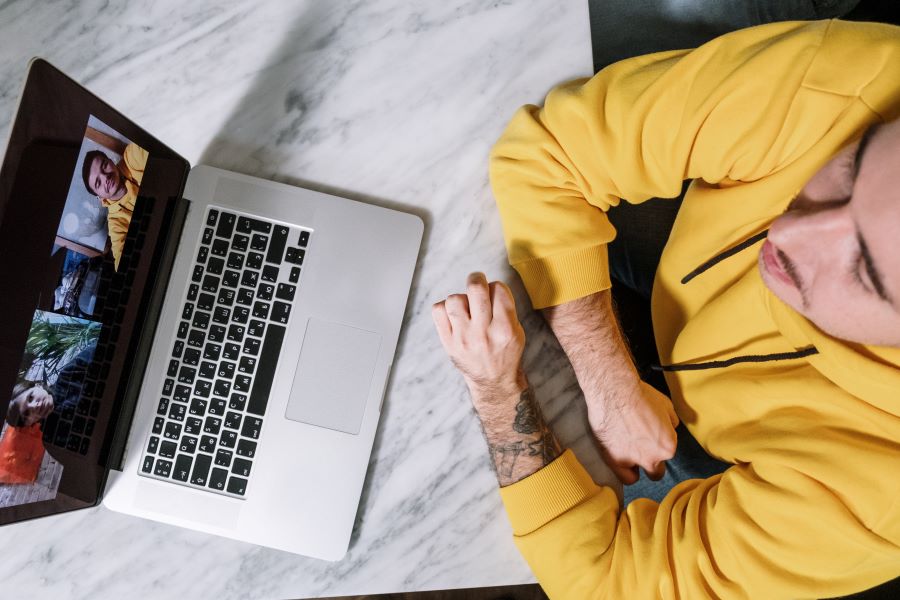 Zoom offers a cloud recording feature that allows users to record their meetings and store them on the Zoom server (Cloud Recording). This is a convenient way to store recordings, as users do not have to worry about saving them on their own devices. Cloud recordings can be accessed from any device with an internet connection.
Prerequisites
You have previously recorded a meeting on the cloud.
A paid subscription (Pro, Business, or Enterprise account)
Latest version of the Zoom client.
How to Find Your Recordings on The Zoom Web Portal
There are two options for obtaining access to them.
First, you may wait for Zoom to send you an email notification once your recording has been completely uploaded to the Cloud, or you can perform these three simple steps:
Log in the Zoom portal in: zoom.us/signin
For admin clients, go to "Account Management," then select "Recording Management." If you're a standard user, go to the recording tab. This will display a list of your meetings for you to choose
Search for specific recordings by fields such as meeting ID, host, or subject to get the Zoom recording you desire. After you've found what you're looking for, just hit "Play" and enjoy!
How to Find Your Recordings with the Zoom Desktop Client
Open the Zoom desktop client.
Click on the Meetings tab.
Open the Recorded tab.
Find the recording you want to see and click on the Open option.
For How Long Are Zoom Recordings Stored For?
Zoom offers a handy recording feature that lets you record your calls and store them in the Cloud. All you need to do is sign into your account at https://youraccount.zoom.us, then click on Recordings on the left-hand side.
Zoom cloud recordings will be stored and available on your account for as long as you are a paid user. So, whether you want to review a previous discussion or catch up on what you missed, Zoom's recording feature has covered you.
There is an option to delete recordings automatically but it comes disabled as default and you'll have to enable this setting if you want files to be deleted after a period of time.
If you move a recording to the Trash Folder, you'll have 30 days to recover it before it gets deleted permanently.
Where are Zoom recordings saved on iOS and Android?
iOS Platform
You can record the meeting to the Cloud using an iOS device to host a Zoom meeting. To do this, tap the More button and select Record to the Cloud. This will display a recording near the top. Tap on the More button if you need to pause the recording by tapping on the Pause button. You can stop it as well via the Stop button.
Once you've ended the meeting, and after waiting for some processing time, it will appear under the Recordings tab on the Zoom web portal.
Android Platform
Recording your Zoom meetings from your Android device is a great way to record what was discussed. To do this, tap More during the session and then tap Record. The app will then show a recording at the top of your screen. If you need to stop or pause the recording, tap More one more time and tap either the Pause button or Stop button.
Once the recording is stopped, it will be processed and appear under Recordings on the Zoom web portal.
How to Share Your Zoom Recordings
Share Cloud Zoom Recordings
Now that you know how to record your Zoom meetings, the next step is to share those recordings with your team. Luckily, Zoom makes it easy to share recordings.
For example, you can share the link you receive in your email for cloud recordings.
Or, from your Zoom web portal, you can head back to the "Recording Management" section and find the recording file you want to share when you find the file, tap "Share" to grab a link you can send to your team members.
With just a few clicks, you'll be able to ensure that everyone on your team has access to essential meeting recordings.
Share Local Zoom Recordings
Another option to share local recordings is to use a third-party platform like Dropbox or Google Drive. Just upload your video or audio file to the platform of your choice, then send the link to your team members.
You can also host your recordings on a video platform like YouTube or Vimeo. However, before you upload, make sure you adjust the privacy settings to ensure only people who have the link can view the recording. By following these simple steps, you can easily share your Zoom recordings with whoever you need to.
Related: How to Join a Zoom Test Call
Conclusion
You'll want to check your local documents folder if you are using a free Zoom account and are using local recordings and you'll want to either use the Zoom client or access the Zoom portal if you are using a paid account as recordings then are stored on the cloud.
iOS and Android Zoom apps save the recordings on the cloud and have no option to save locally.
Apart from that you are able to set different settings for your recordings like the default folder to save the files when recording locally or if you'd like cloud recordings to be deleted after a period of time.
Hopefully this guide has helped you.