It's 2023 and podcasting has become the new go-to medium for people to express their thoughts and experiences. From Apple Podcasts to Spotify, everyone is listening in! Are you ready to jump on board this hot trend and create your own podcast? Well then, let's get started with this beginner's guide on how to make a podcast on a Mac!
In this guide, we'll cover everything you need to know about Macs and podcasting, from what software you'll need to how to record podcasts, edit audio and publish your podcast. Plus we'll give you some pro tips to help you create a successful podcasting experience. So, let's start by understanding what makes Macs the perfect platform for creating podcasts!
Related: Start a Podcast People Will Listen To
Why Macs Are Great For Podcasting
Before we get into the technical details of podcasting, you'll need to understand why Macs are the ideal platform for creating a great podcast. This section will explain why Macs are a great choice for podcasting and offer some tips on how to make the most of this platform.
Easy To Use Software
One of the biggest perks of podcasting on a Mac is access to user-friendly software. Apple provides a great suite of audio editing and production tools, such as GarageBand, that make it easy for anyone with basic knowledge of computers to create high-quality podcasts. Plus, there are many third-party services available that allow you to edit, mix and master your system audio.
Multi-Track Recording
Macs also come with a great feature called multi-track audio recording which allows you to record multiple people or instruments at once. This is particularly useful for podcasters who are interviewing guests or collaborating on projects.
Additionally, Mac's excellent sound quality makes it a great choice for podcasting. With an external audio interface, you can record crystal-clear sound that will make your listeners happy.
Affordable
Macs are also incredibly affordable. You can buy a good laptop for podcasting for as little as $600. And if you already have an iMac or Macbook, then you're all set to start podcast recording your podcast. So, if budget is a concern for you, don't worry- creating your podcast on a Mac is still within reach!
Publish Anywhere
Macs also make it easy to publish your podcast anywhere. You can upload your video/audio file directly to popular hosting platforms like SoundCloud, or you can embed a podcast player on your website for maximum reach. Plus, with Apple's Podcasts app, you can easily distribute and promote your show to the whole world!
Professional Quality
Finally, Macs provide the tools you need to create a professional-quality podcast. With access to powerful audio editing software and advanced features like multi-track recording and noise reduction for superior audio files, you can produce a podcast that sounds as good as any on the market.
Now that you know why Macs are great for podcasting, let's take a look at the software and hardware you'll need to get started.
Related: Where Is The Microphone On A Mac?
Software & Hardware Requirements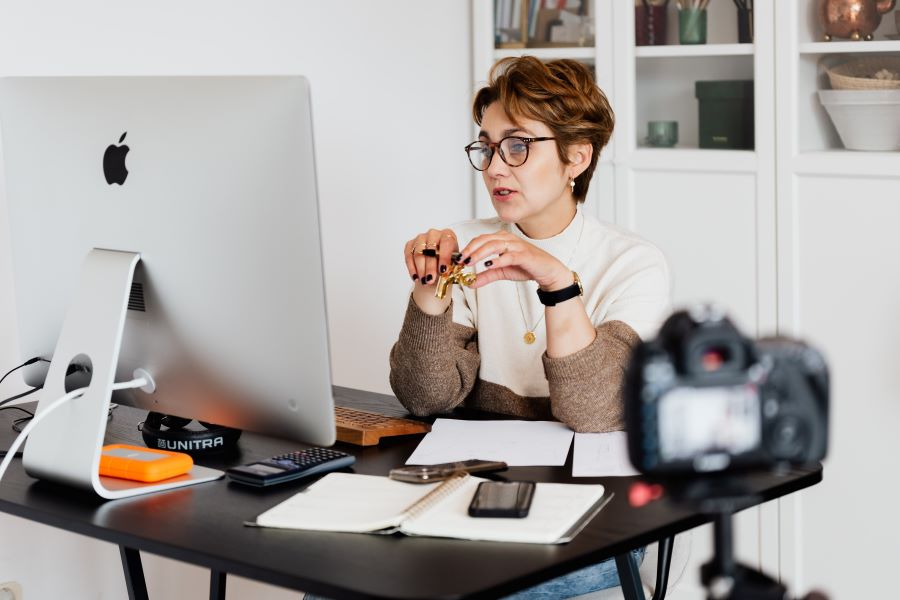 To create your podcast on a Mac, there are certain tools and equipment needed. Here's what you will need before getting started:
1. Computer
First, you'll need a Mac computer to record a podcast. Any recent model will do, but if you want to record at the highest quality then we recommend an iMac or MacBook Pro with at least 8GB of RAM and an Intel Core processor. Once you have your computer set up, you can start installing the software needed for podcasting.
2. Microphone & Audio Interface
To capture your audio, you'll need a good microphone and an external audio interface. We recommend the Shure SM7B as a great all-around mic for podcasting with a solid frequency response range and plenty of headroom for dynamic vocal performances. Meanwhile, the Focusrite Scarlett 2i2 provides a great interface for connecting your mic and other audio sources to your computer. There's more you can find from our top audio interface for Mac.
3. Software
You'll need some software for recording, editing, and posting your podcast. There are many great options available, but if you're just starting out then we recommend Apple's free GarageBand. This software provides plenty of features and flexibility for beginners, while still giving advanced users the tools they need to create a professional-quality podcast. You can find out more from our list of best podcast recording software for Mac and PC.
Now that you have all the necessary equipment, let's look at how to set up your Mac for podcasting.
Setting Up Your Mac For Podcasting
Once you have all of the software and hardware needed, it's time to start setting up your Mac for podcasting. Here are the steps you need to take:
1. Set up the audio interface
First, you'll need to connect your audio interface and microphone to your computer. Plug the audio interface into your Mac using a USB or Thunderbolt cable, then connect your microphone to the audio interface. Once the connection is established, make sure both devices are recognized by your Mac by checking they are listed under "Audio Devices" in the Mac's System Preferences. You may like to read our guide on how to connect a sound mixer to a Mac.
2. Install podcasting software
Next, you'll need to install the podcasting software of your choice on your Mac. If you're using GarageBand, then you can download it for free from the App Store. Once downloaded, open the software and start exploring its features.
3. Configure podcasting settings
Now it's time to configure the podcasting settings for your software. For GarageBand, you'll need to select a track type (audio or instrument), choose an input source, then adjust the volume and other settings as needed. We also recommend these best microphones to record in GarageBand. Once everything is set up correctly, you're ready to start recording.
4. Start recording
Finally, it's time to start recording your podcast. Hit the record button in your software, then speak into the microphone and make sure your audio is being captured correctly. When you're done, hit the stop button and save the project. From there, you can start editing and mixing your podcast along with the music production inside your podcast episode until it's ready for release. Here's a guide on how to edit a podcast on a Mac.
And there you have it! You now know how to record audio/video and make a podcast on a Mac. Recording podcasts on a Mac is a great way to get started with podcasting and make professional quality podcasts. With the right software and hardware, you can produce podcasts that sound just as good as any on the market.
How To Professionally Record, Edit, And Post Your Podcast?
Now that you've got the basics down, let's take a look at some tips for professional-level podcasting on a Mac.
Invest in good equipment
The quality of your equipment will drastically affect the sound of your podcast, so make sure to invest in good microphones and audio interfaces for better audio clip recording. You'll also want to invest in a good set of headphones for monitoring your audio, as well as acoustic foam and other sound-dampening materials for keeping background noise to a minimum. Check out our related post, "Podcast Starter Kit."
Set up correctly
Take the time to make sure all of your equipment is connected and set up properly before you start voice recording. This will help ensure that you capture the best possible audio.
Edit and mix your audio
Now it's time to get into the editing and mixing stage of podcasting. This is where you can start shaping your audio and crafting your show, so take the time to experiment with different techniques until you find a sound that works for you.
Post your podcast
Once your podcast is finalized, it's time to post it online for the world to hear. There are plenty of platforms available, such as Apple Podcasts, Spotify, and Google Play Music. Choose one or more of these services to make sure your show reaches its maximum potential audience. You can check out our tutorial posts on how you can submit your podcast on Stitcher, Google Podcasts, Spotify, and Apple Podcasts.
Promote your podcast
Finally, you'll need to promote your podcast in order to attract new listeners. This can include creating social media posts, setting up a blog, or even submitting your show to podcasts directories. You can read "PODCAST PROMOTION: The Complete List" to learn more.
By following these steps and using the right equipment, you should be able to create a professional-sounding podcast on your Mac.
FAQs
Is there an app to make podcasts on Mac?
Yes, GarageBand is the most popular app used to edit podcasts on Mac. Its intuitive interface makes it easy to use, even for beginners. Additionally, many third-party apps offer podcast editing capabilities as well. You may be interested to check some of our GarageBand editing guide, such as how to reduce reverb, how to remove echo, or how to fade out audio.
Is it free to make a podcast on Mac?
Yes! Making a podcast on Mac is completely free. You don't need to pay any fees or purchase any special equipment to get started—all you need is your Mac computer and the right knowledge. The first step in making a podcast on Mac is downloading an application like GarageBand, which provides access to audio recording and editing tools.
With GarageBand, you can record audio directly into the program and edit it afterward to make sure it sounds great. You can also add music and sound effects to your recordings if desired. Once you have finished recording your podcast, the next step is to publish it online so that people can hear it.
Can you use iMovie to make a podcast?
Yes, iMovie is one of the most popular tools for creating and editing podcasts. It provides a range of powerful editing tools and audio-mixing options for your recorded audio files to help you craft the perfect podcast episodes. Plus, it's compatible with most Mac devices and easy to use for those just getting started. Editing audio in iMovie for Mac is a great way to get started with podcasting. Here's how you can edit a podcast in iMovie in Mac and iOS.
The Bottom Line
Making your own podcast on a Mac is easy with the right equipment and podcast software. You'll need a computer, microphone, recording and editing software, an audio interface, and an audio mixer to start. Once you have the basics in place, you can begin recording your podcast. Before beginning your first episode, become familiar with the features of your software, so you know how to edit and mix your sound for a professional quality outcome.
Just remember to keep your recording environment quiet and make sure you have enough space for your equipment. With a bit of practice and creativity, you can produce engaging podcasts from the comfort of your own home.
Related: Best Laptops for Recording Podcasts