Being a guest on other podcasts is critical to establish yourself as a thought leader in your niche and just as vital to efforts to grow your personal brand and reach. But pitching yourself as a guest on any podcast within your niche is a futile use of time; a better use of your time is to approach podcasts looking for guests knowing they'll be more receptive to your pitch.
This list of podcasts looking for guests should be an excellent starting point for your ambitions.
Related: Podcast Agreement with Guests: What is it and Why do I Need One?
16 Podcasts Looking for Guests Right Now
There are potentially hundreds of podcasts searching for guests like you. However, many of these require some digging to find. This list of 16 podcasts across a variety of niches should help you find the perfect podcast guest opportunity.
Don't Count Me Out is hosted by Jo Ann Glim, an author and stroke survivor who now shares the inspirational stories of guests who appear on her show.
Glim conducts interviews remotely and you can reach out to her via dcmo.talks@gmail.com.
Any personal inspirational stories are welcome.
2. Living the Dream with Curveball
Living the Dream with Curveball is an audio-only podcast where the host interviews guests who "teach, motivate, and inspire others."
Guests range from self-published authors to survivors who share their stories to help motivate and guide others.
You can reach DJ Curveball on his social media.
3. The Above The Bar Podcast
The Above The Bar Podcast is hosted by U.S. Marine veteran Shawn Murphy who interviews guests to find out how they excel at what they do. Interviews are remote and conducted live every Wednesday at 8 p.m. EST.
You can reach Shawn on LinkedIn.
4. Personally Brandtastic
The Personally Brandtastic podcast is hosted by Paul Copcutt, a marketing and personal branding expert specializing in real estate marketing and branding. He now shares the insights he learned in marketing with listeners. Guests of the show also share their insights into marketing and personal branding from their perspectives.
You can email your pitch to paul@paulcopcutt.com to appear on Paul's podcast.
5. EntrePods
The EntrePods podcast interviews entrepreneurs and investors with insights and expertise in navigating the modern business climate. Each week the hosts probe an international or US-based entrepreneur about growing their businesses, asking the questions many entrepreneurs want answered.
You can apply to become a guest on Season 3 of the show or email the team on info@entrepods.com with your pitch, to ascertain if you're a good fit.
6. LifePix University Podcast
The premise of the LifePix University Podcast is to help listeners "rewire" their brains so that they're in control. The podcast deals with topics like becoming better at decision-making, preventing or overcoming procrastination, improving focus, and time management, among other areas of importance to busy professionals and entrepreneurs.
You can pitch yourself as a guest using the contact form on the website.
7. Shares for Beginners
Phil Muscatello hosts Shares for Beginners, an Australian podcast aimed at helping novice investors get started. If you have an interest in the field of finance and investing, you can pitch yourself as a guest by completing the guest submission form.
8. Startup Hypeman: The Podcast
Startup Hypeman: The Podcast is aimed at giving entrepreneurs a competitive edge by providing actionable insights, ideas, and inspiration to entrepreneurs. You can appear on the audio-only podcast hosted by Rajiv Nathan by emailing your pitch to media@startuphypeman.com.
9. How to Be Awesome at Your Job
Hosted by Pete Mockaitis, How to Be Awesome at Your Job details the processes and insights offered by thought leaders and experts in the field. You can join the likes of best-selling authors, CEOs, renowned speakers, and other leaders in their field by emailing your guest pitch to guests@awesomeatyourjob.com.
10. The Dots
On The Dots podcast, Kathleen Buczko interviews guests on topics related to change, leadership, activism, and entrepreneurship as she she explores how listeners can connect the dots. You can reach out to Kathleen about being a guest on her show through social media.
11. esInvests – Money Talks
With over 8,000 subscribers Erik hosts guests on his podcast, esInvests – Money Talks, that will help listeners and viewers build wealth. You can pitch to be a guest on his podcast "Money Talks" by emailing Erik via erik@esinvests.com.
12. BUY GROW SELL
BUY GROW SELL, an Australian podcast hosted by Simon Bedard, focuses on discussions with entrepreneurs who have bought, grown, or sold a business — or all three. The podcast details insights about what guests have learned from their experience in business. If you feel you'll be a good fit for the podcast, you can reach out to Simon on LinkedIn with your pitch.
13. RebelRebel
RebelRebel is a Canadian podcast looking for guests with a focus on creatives, innovators, and entrepreneurs breaking the mold. The podcast boasts an audience in over 57 countries and has won several awards. To enquire about being a guest on the show, email the RebelRebel team at rebel@therebelrebelpodcast.com.
14. Get Authentic with Marques Odgen
Marques Odgen, the host of Get Authentic with Marques Odgen, has a harrowing story about going from an 8-figure salary to an $8.25 hourly wage. Now he looks to teach others to avoid the mistakes he made by encouraging listeners to live authentically.
If you have a story to share about how you've built your brand, business, or career with authenticity, consider emailing your pitch to hello@marquesogden.com.
15. eCommerce Coffee Break
The eCommerce Coffee Break is a podcast dedicated to helping Shopify merchants and business owners excel. The podcast hosted by Claus Lauter details how business owners can maximize conversions and increase revenue with the insights shared by guests.
You can pitch yourself to be a guest on the podcast by emailing claus@clauslauter.com.
16. r/PodcastGuestExchange
The r/PodcastGuestExchange is a subreddit dedicated to helping podcast hosts find guests and podcast guests find shows to pitch.
The subreddit has 10,000 followers, with opportunities posted daily.
However, you don't have to limit your search to the subreddit. Instead, use the search bar to search for podcasts looking for guests. Type in "podcast guest" and filter your search by most recent results to find podcast hosts from all corners of the internet looking for guests for their podcast.
5 Benefits of Being a Guest on a Podcast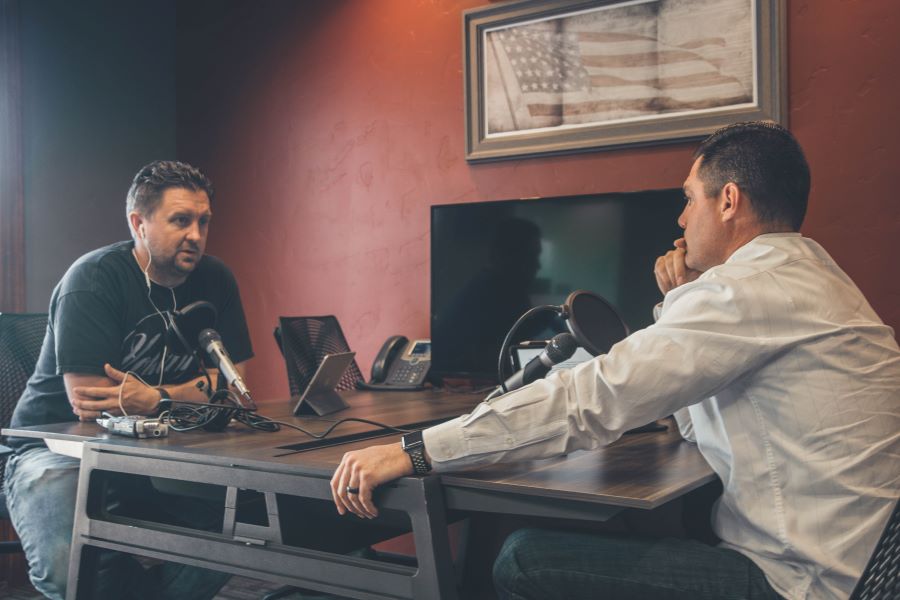 Before you abandon your efforts to appear on a podcast because of the complex processes or time-consuming task of vetting podcasts and pitching yourself to the hosts or team behind them, consider the benefits.
An hour's investment to research and pitch podcasts is nothing compared to the far-reaching benefits that make appearing on a podcast more lucrative than any other form of media.
Reach Affluent Audiences
If you're promoting a book or other product or service, it helps to have a perceptive crowd — people with significant purchasing power. According to stats from Buzzsprout, that audience accounts for more than half of podcast listeners in the U.S.
Data from Buzzsprout shows that 66 percent of podcast listeners have a college degree and earn more than $75,000 a year.
Related: PODCAST PROMOTION: The Complete List
Leverage Higher Than Average Conversion Rates
Statistics relating to the income of podcast listeners could be why the format enjoys a substantial conversion rate.
But the long-form style of content is also enough to convince a significant number of listeners to purchase the product or service you're touting. After all, they've spent the better part of an hour listening to you, your product's benefits, and building trust — a vital component to turning cold prospects into warm leads.
Improve Your Search Results and Ranking
Podcast appearances have a tremendous impact on the quality of your search results and can help boost the position of your website or blog.
Many hosts will include a link to your website, social media accounts, and latest projects in the podcast's description, allowing your website to rank higher on search results.
You could even ask the host to target a specific longtail keyword you want to boost in search results.
Related: 15 Hacks to Make Your Podcast Go Viral Fast
Build Brand Awareness
Branding is the intangible, evergreen component of marketing. With a strong brand, you build market resilience, loyalty, and evergreen promotion through word-of-mouth recommendations.
Beyond recommendations, brand awareness also ensures audiences think of you — or your product or service — first when they're in the market for what you're promoting.
Spend Nothing to Leverage These Benefits
Some podcasts ask guests to pay to come onto their show, but most rely on the mutually beneficial exchange to grow their audience and create content which is why they allow guests to come on without having to pay for the spot.
The fact that it's free makes it one of the best marketing strategies. It also means that its ROI will trump any other form of promotion you're implementing.
Related: 12 Cool Tricks to Grow Your Number of Podcast Listeners
How to Find and Approach Podcasts Looking for Guests
Your podcast media list shouldn't be limited to the few podcasts looking for guests on the list above. Instead, you can expand your podcast media list to ensure you're reaching the widest audience and to guarantee your media tour has the desired effect. Creating and curating your list also ensures you're being introduced to new audiences with each appearance you make. It's an art PR firms and agencies have perfected. For that reason, your first step to building your list is to consider hiring an agency.
Route #1: Hire an Agency to Book Your Media Appearances
There are three routes to find podcasts looking for guests — and succeed at booking an appearance. The simplest of the options is hiring an agency to represent you.
Related: Podcast Agency: Everything You Need to Know
Consider Hiring an Agency
Whether you bring on an agency or an agent, hiring out this task ensures you won't be overwhelmed with researching, enquiring, and booking appearances. Instead, your agent will network with podcast hosts and their agencies to pitch you as a guest.
They'll research podcasts, finding ones that will provide the most value to your media tour. They consider topics, past guests, and reach.
Your agent will also use their leverage within media circles to book guest slots on podcasts with substantial audiences. Another reason to consider hiring an agent to book podcasts looking for guests is media preparation. Your agent can help you craft compelling, authentic, and insightful answers to questions you're likely to encounter. The result is becoming a preferred guest, earning you more guest slots.
Of course, you could also delegate this task to a personal assistant.
If you do, they'll need to:
Route #2: Find and Pitch Podcasts
You can find and pitch podcasts looking for guests without the assistance of an agent, but then you'll need to be prepared to expend more of your time looking to book an appearance.
Search Apps or Directories for Potential Podcasts
Turn to apps like Spotify, Apple Podcasts, Amazon Music, and iHeartRadio to scout for podcasts you can approach. Use tags that are related to your niche to narrow the list.
You can also use a service like Matchmaker.fm that typically has a directory of podcasts with smaller audiences — under 10,000 listeners.
When searching for podcasts, ensure they're still active by double-checking the date of their last episode.
Find the Business Contact Details of the Podcast
If you're using an app, type the podcast's name into a search engine and be on the lookout for a website or blog. If you can't find either, search for the host's social media account and send them a message requesting an email you can use to send your pitch.
Pitch Being a Guest on the Podcast
The secret to booking a guest appearance on a podcast is to craft a compelling pitch.
Your initial pitch should be concise, homing in on the value you can provide to the podcast.
Include a brief description of your educational history or professional background, accomplishments, and the subjects you can cover.
If you have made other media appearances include links to those.
If your initial pitch draws the attention of a host, they'll reach out with more questions.
Answer these by showcasing your expertise. Show, don't tell. Describe your successes and your processes to reach them wherever it's applicable.
Route #3: Pitch Yourself to Podcast Agencies
Your final option to book your guest appearance on a podcast is to pitch to agencies.
Pitch Yourself to a Podcast Agent
Pitching yourself to an agent doesn't entail hiring one. Instead, it means going to the source and decision maker of any media appearance: the podcast's agency.
Typically an agency will manage dozens of podcasts; therefore, by going to an agency or an agent, you are pitching several podcasts rather than one at a time. If you're a fit for any of the podcasts the agent managers, you will be booked to appear on them. Depending on the size and scope of the podcast, the agency will first conduct a preproduction interview. This is your time to impress.
Ensure your audio is clear and your webcam records in HD or higher. Your internet connection should be strong, and so should your interview presence.
Since you're pitching yourself to an agency, you need to recognize that they'll be far more selective about who makes it onto their clients' shows.
If you don't have any media training, you may want to look into it to ensure you're not ill-prepared.
Related: 8 Powerful Tips to Master for Success in Podcast Pitching
Conclusion
Similarly to your need to find podcasts looking for guests to expand your reach among new demographics and solidify your position as a thought leader, podcasts need guests. There's not a never-ending conveyer belt of guests willing to set aside time to prepare, be interviewed, and then follow up, meaning your pursuit of a guest slot fills this all-important requirement.
However, to ensure podcast hosts understand the value you bring to their show, you need to craft a compelling pitch. Then, to ensure you're booked to appear on the show, you should prepare your answers and practice your media presence.