Podcasting has some unique advantages that make it suitable for building a strong, long-lasting connection with your audience using long-form content. Podcasts are a passive medium, allowing people to listen as they walk, drive or work.
It is an effective tool for establishing emotional connection and using your voice to win people's hearts. Businesses, freelancers, and marketers use podcasts to deliver content to their target audience.
You may also be interested in: Top 15 Marketing Agencies for Small Businesses.
Why would you need a Podcast Agency?
Podcasts are gaining popularity as the most human way to reach your audience. It is difficult to achieve the same feeling of intimacy using a different medium than you would with podcasts.
There are two ways to work on your podcast:
you can do it alone, or

you can work with a podcast agency.
External support from a podcast agency is an investment, it also allows you to leverage the experience and expertise of other people to avoid costly mistakes and get things done faster.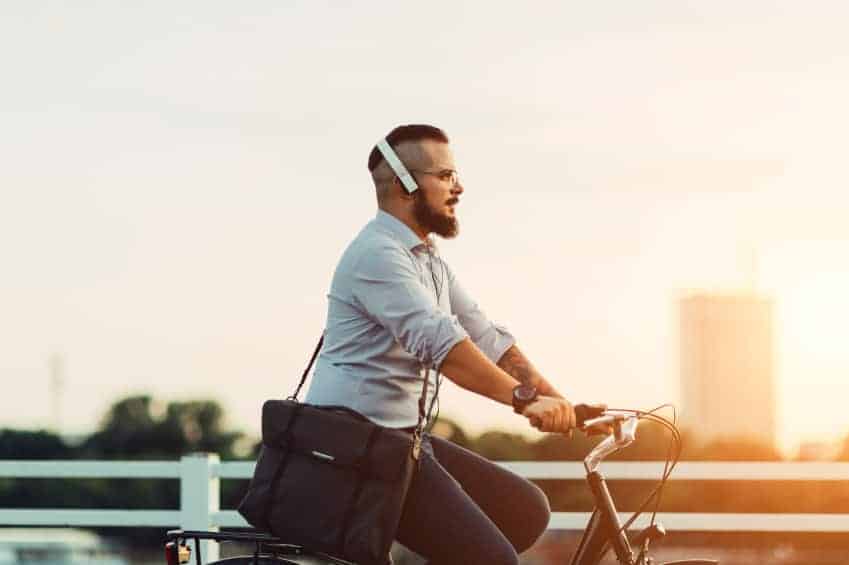 Here are some of the things that a well-done podcast can do for you:
Generating leads for your business

Positioning your leaders as experts in your field

Increasing the size and value of your network

Building Trust

Having conversations that matter
What does a Full-Service Podcast Agency Do?
When you are working with a professional full-service podcast agency, the agency wears many hats to ensure your success.
Podcast agencies run a solid brand strategy that answers the right questions:
Besides these, the agency will also have to provide effective social media marketing and understand how podcast promotion works. Podcast promotion is unique compared to social media, video, or blogging. There is no 'algorithm' that automatically pushes one's content.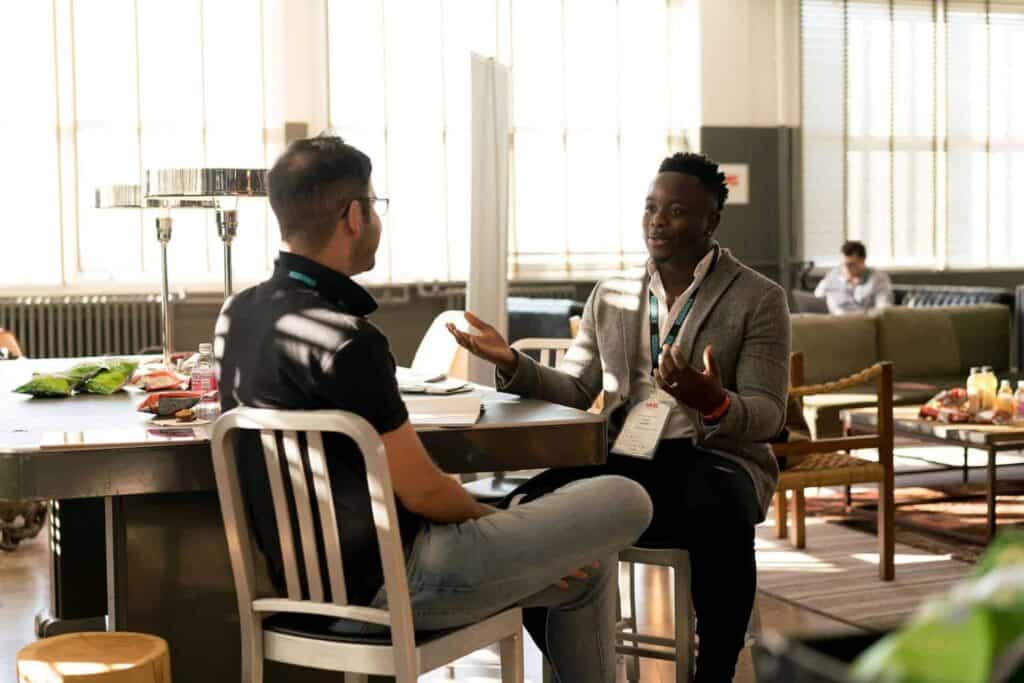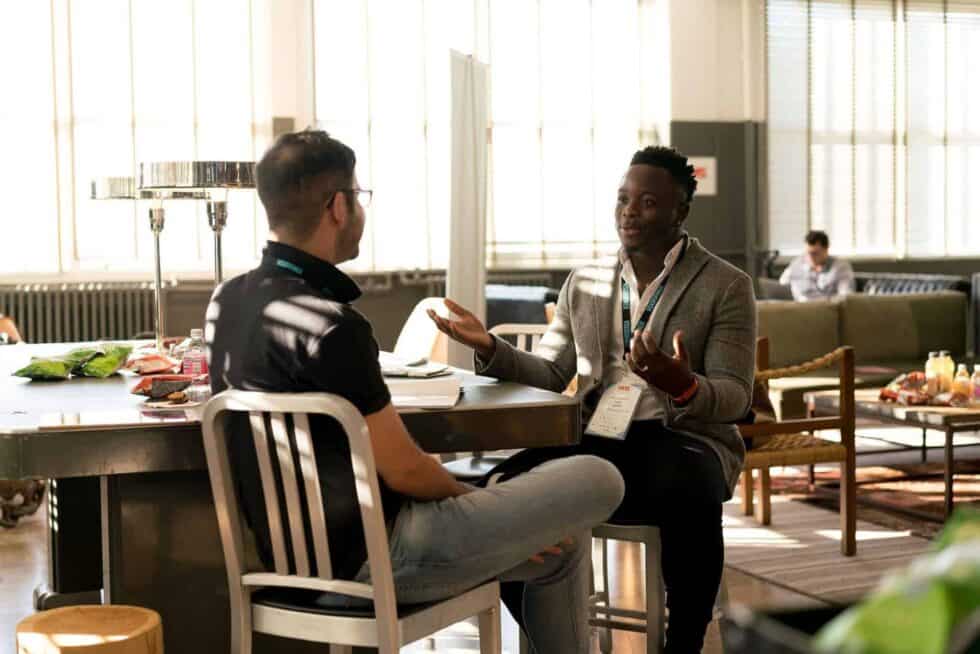 Here are some of the main things a full-service podcast agency will be able to help you with:
Podcast Strategy
Podcasting yields the best results when it is geared towards the realization of your business goals.
During this discovery phase, our job is to understand you, your company, and your brand. More importantly, we work to understand who your customers and users are. We want to understand your pain points and your challenges, what a win looks like for your customers and what a fail will cost them. We are not just after the demographics. We want to understand their psychographics.
In our experience, we have found that when we figure out what your clients want and give it to them, your podcast – and ultimately, your business – will grow and succeed.
And that is what drives the podcast decisions that we make.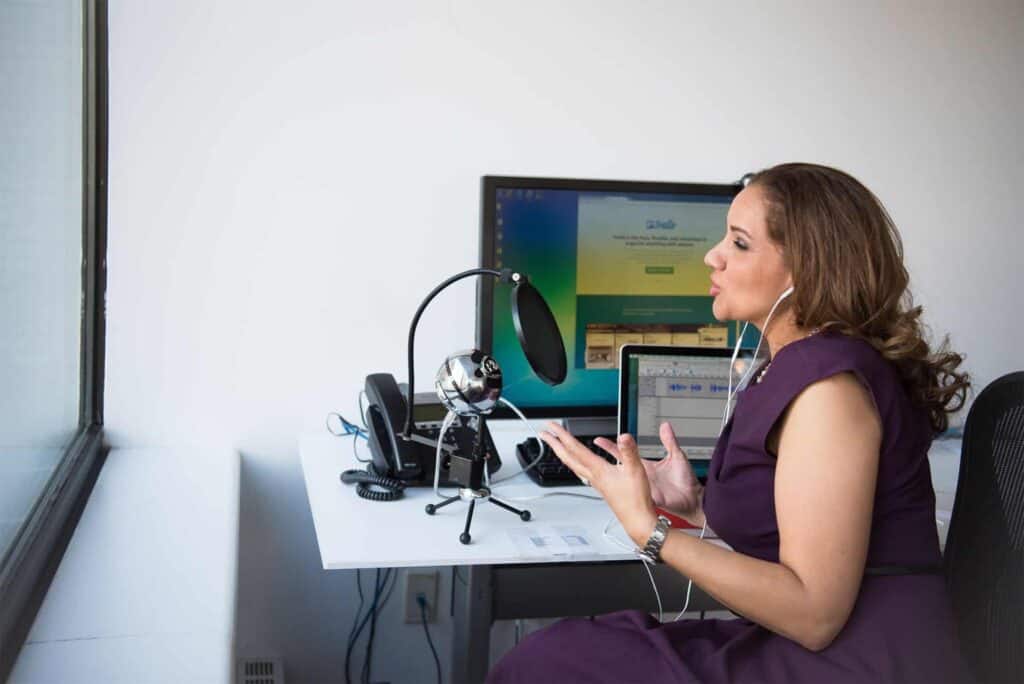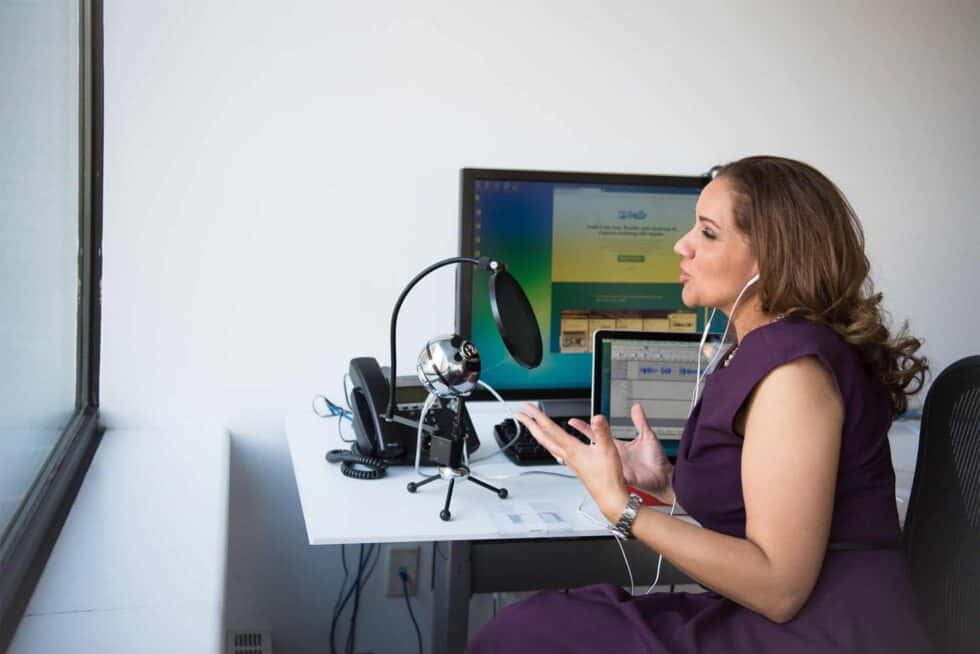 A solid podcast strategy makes sure that all your efforts are coherent and in synergy.
Here are some of the typical things that need to happen for your podcast to make sense:
Design a logo or cover art

Decide on the microphone and equipment

Software used to record

Format of the podcast (interview, solo, etc)

Recurring topics or sections
A solid podcast strategy makes sure that all your efforts are consistent and communicate with your target audience.
But before we make all these decisions, we have to work on creating a solid Brand Strategy for your Podcast.
Brand Strategy
When creating your show, you should consider the theme or the objective of the podcast. Think about why it exists and who it's produced for.
Let's say you own a coffee drop shipping business. How can you connect better with your audience? What would you discuss?
You can only talk about coffee for so long before you put your listeners to sleep. You have to develop a deeper understanding of your brand, your values, as well as the needs and interests of your ideal client.
This is what will guide you to create topics that your listeners want to listen to, even when they are not looking to buy from you.
When you don't have a clear strategy, you end up spending time and money creating the wrong type of content.
A Podcast Agency like ours will guide you in creating an effective brand strategy to create that needed Podcast Strategy.
Podcast Launch
We will also help you choose a launch date and leverage your network to get in those early reviews and downloads to give you your best chance of success.
Some even help with a launch party, a live release of your podcast surrounded by your clients, friends and network connections to give your podcast a marketing push from the start.
It can also help you with the first episodes. What should you say on your first one? How many episodes do you need to launch with? (Just so you know, at least 3 is recommended but 5 is preferrable. Your listeners might want to binge, and it will be easier to get the most out of your launch).
Post-production
A podcast agency works with you to make sure that you are working with the right microphone and in a soundproof environment for best sound quality.


Microphone placement is also a topic to go through with for smoother and more natural-sounding audio, avoiding noises and annoying echoes.
Once that is out of the way, podcast editing experts will assemble your episode with any intros and outros, adverts, sync the tracks if there are multiple people talking and give your recording an "oompf" through EQ and compression.
If you need intros and outros, a podcast agency can take care of that for you.
Then we remove or minimize unwanted elements like:
Lengthy, awkward pauses

Background noises

Harsh breathing noises

Mouth noises
Shownotes
Once you have the episode recorded you'll want to launch the episode on all major podcast platforms. To do this, you'll have to add a description for your episode.
This is the most looked over part in podcasting and it's the most important!
Google doesn't have (yet) a way of analyzing voice and "understanding" what the episode is about. And the title may be too short to put in there all the relevant keywords.
This is important so that when people search for related keywords to your episodes, your podcast shows up in the results page.
Shownotes are an important part of SEO and discoverability, they are basically your episode's description.
A good podcast agency will take care of this for you and add not only what the episode is about, what will also add quotes, timestamps to the topics and link to the resources you talk about in the episode.
And the only way to do that is by listening to the episode in full, understanding it and writing them.
Transcriptions
Publishing podcast transcripts together with the audio file is a way of repurposing content and building visibility from an SEO point of view.
This follows up from the shownotes as now the whole transcript is searchable in Google which brings out even more possibility of being found.
You can further advance to the  , where you turn your transcript into a blog post. You thereby provide your audience with multiple ways of consuming your content.
Podcast Agencies will ensure to have a strategy in place for this kind of work.
Syndication
Finally you need to upload the file to your podcast host and disseminate it to all the major podcast platforms.
You may even need to create a blog post with the shownotes or the transcription on your site.
A podcast agency like ours will go through the hassle of publishing, postproduction, and promotion for you.
A full-scale solution is to upload your raw files and the podcast agency will do the rest for you: editing, shownotes, transcription and upload to the upload onto your podcast hosting platform including inputting information like the title, episode highlights, description, links, and show notes, before scheduling it to go live at a predetermined time.
This leaves you free to focus on your business.
Marketing
Word-of-mouth is the best method of advertising. How do you leverage word-of-mouth for a podcast?


Podcast agencies can help with:
Finding and invite guests your audience will resonate with. Bringing in experts as special guests encourages sharing and therefore boosts social proof.

Create lead magnets and score guest appearances in other podcasts. This will make it easy to provide amazing value as well as attract other podcast's audience.

Connect with you ideal clients by inviting them as guests on your show. This will help you build rapport and avoid having to do cold reach outs; instead having them in the podcast creates a warm introduction and collaboration.
Social Media
Podcast agencies help to set up, brand, and optimize Social Media pages for your podcast. Sharing each new episode updates on all channels will help to boost engagement and SEO. Include your episode link in each update for ease of access and social sharing.
Podcast agencies will leverage different marketing methods to engage new leads on social media. They may post small clips from the podcast with subtitles to engage followers. Parts of the interviews can also be republished in text format.
Market Research
Some brainstorming questions that we might think through on your behalf include:
What are your listeners' likes and dislikes?

What are some popular podcasts that are related to your niche? What are their merits and demerits?

What questions do people ask on Quora relevant to your niche?

Would it be helpful to survey your audience to ask them direct questions?
A podcast agency can help with all this, as well as check who at the top of your category, what they are doing well, what they need to improve on, as well as the opportunities available for you to create a market space.
What can you expect from working with a Podcast Agency?
First contact
We like to offer our services as customized bouquets. We get to know your organization, your goals, challenges, and opportunities that you can exploit.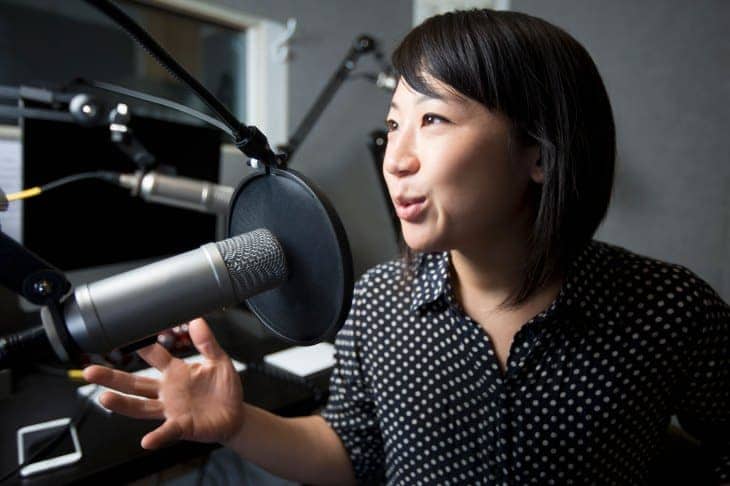 We offer our clients bundles of services. We work with you to identify the existing opportunities for guest podcasting as well as market opportunities for brand building and lead generation that you can take advantage of through podcasting.
1-to-1 strategy
We work with you to formulate concrete plans and tactics. We define and give structure to your podcast and find ways to align your podcast with your organizational objectives.
A podcast agency can help you come up with an action plan that fits your time restrictions and budget. Clearly defining your target audience, clarifying goals, spelling out performance indicators, researching the best keywords, and scoping out the competition will help us to come up with a content plan and decide how to position your podcast.
We carefully choose the host of the podcast and pick the right format. 
Here is how a Podcast Agency will help you:
Plan your show: Pick the main topic, the title of the podcast, the show's mission, the target audience, the format, and the show's length. On average, a podcast should be about 43 minutes. Depending on your brand and style, it might be longer or shorter. Podcast producers will research topics for you.

Shownotes are some of the elements that help potential listeners to quickly decide whether to listen to your podcast or not. You want to have something well written that attracts the people you want listening to your show.

Have an outline for each episode. Decide on what you want first to cover and what will wrap your show. Have a logical structure of the entire episode before hitting the record button. Podcast producers will help you with a script.

If you have a guest, prepare a set of questions. The outline helps to keep your conversation within the timeframe. Respectfully interrupt your guest if they talk long, or they go off the topic. A podcast agency will find guests for you and schedule an interview time.

Ask better questions that position you as the expert.
Podcast Brand design
We help you with podcast brand design that is true to your mission and vision as well as your target audience. We help you come up with your ideal voice and design a well-crafted user experience.
Recommendations for format and equipment
One of the best things about working with a Podcast Agency is that you don't have to fumble around figuring out the mechanics. We do it for you.
Ongoing support in production and marketing
Once you get started, a Podcast agency continues working with you. We give you production support and leverage our skills, experience, and networks in the industry to deliver marketing support for your podcast. This support starts from the very beginning. We help you launch your podcast successfully and market it continuously. 
Conclusion
So, there you have it, if you are looking for the best business podcasts 2021 to dive deep into entrepreneurship, this is the list we would go for.
Turning over to you. Which podcast do you like to listen to most?
Let us know in the comments below.
What about your podcast?
Maybe it should be you on this list.
If you are a small business startup looking to expand your content marketing efforts to attract more of the right clients, podcasting for businesses can help with that.
Need help getting started?
Podcast Rocket can help you with your podcasting needs tailored to your business. Our Podcast Strategy is designed to unearth the right strategy for your business and set measurable success metrics so you know if you are hitting your target goals for your business.
So what are you waiting for?
Contact us today. Attract more of the right clients.