Are you curious about the differences between SoundCloud vs Spotify for podcast hosting? Podcasting is an increasingly popular way to distribute content, but with various audio-hosting platforms available, it can take time to know which option would work best for your needs.
In this article, we will take an in-depth look at SoundCloud and Spotify for hosting a podcast, exploring their key benefits and drawbacks so that you can make a fruitful decision about where to host your show. Read on to see what each platform has to offer!
Related: Best Podcast Hosting Platforms
SoundCloud Podcast Hosting
SoundCloud is a popular online audio platform that allows podcasters to connect with a larger audience of listeners. SoundCloud podcast hosting is an excellent way for podcasters to gain exposure and audience engagement.
Not only can you easily host your audio recordings on SoundCloud, but it also offers an array of other features, such as the ability to track your stats and the convenience of storing all your episodes in one place. With SoundCloud podcast hosting, you can reach more ears and get your message out faster in this ever-growing digital age! Check out our post on everything you need to know about podcasting with SoundCloud.
Spotify Podcast Hosting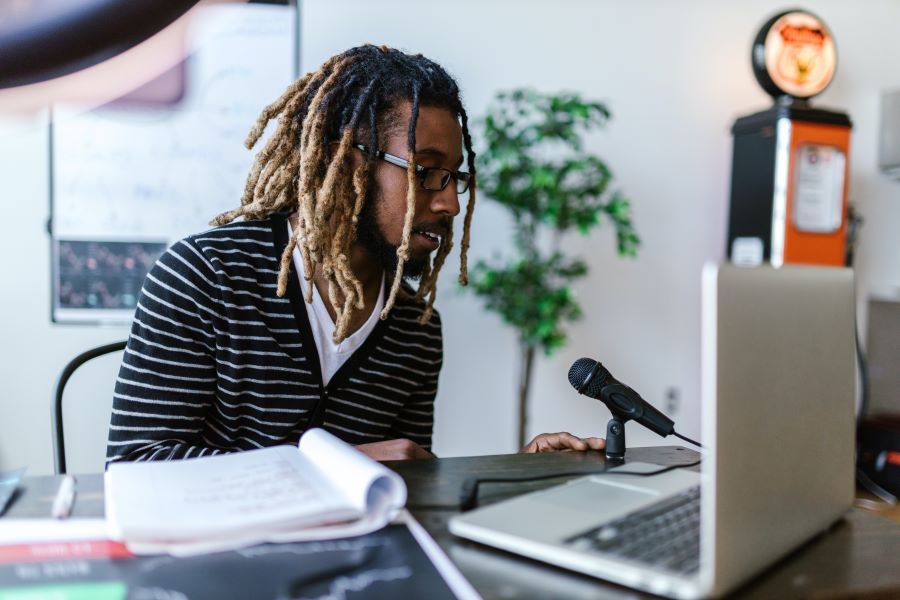 Spotify podcast hosting is a powerful platform that enables users to build their podcast library and share their favorite shows with others. It offers a range of customizable features, such as the ability to design custom podcast artwork, track listenership, integrate ads into podcasts if desired, and even monetize podcasts through Spotify's partnerships with streaming companies.
Additionally, users can choose from an ever-growing library of thousands of podcasts hosted on the platform. With all these features and more, Spotify provides an effective way for all kinds of content creators – from beginners to pros – to easily create, manage, and promote their podcasts without hassle.
Related: Spotify's Competitors
Comparing SoundCloud vs. Spotify
Music Library
SoundCloud has an impressive library of over 125 million songs, making it much larger than Spotify. However, a large portion of the content has low audio quality due to its lower standards for distribution.
On SoundCloud, it's easier for new and unknown artists to share their music – offline listening has become a thing of the past with this platform. Additionally, it's an excellent way for others to discover new and upcoming talent before anyone else does!
In the end, having access to so many songs makes SoundCloud an invaluable tool for artists striving to make a name for themselves and listeners who want to hear something unique and special.
For Spotify premium users, there is no better spot to find quality music than from the selection offered by Spotify. With over 50 million tracks on offer and a rigorous process for ensuring only high-quality audio is posted, Spotify can ensure Spotify premium users will get the absolute best listening experience.
From big-name artists to indie hopefuls with excellent production values, Spotify offers a variety of premium content that Spotify premium users can count on for a unique audio experience.
Algorithms
SoundCloud is the perfect tool for people looking to dive into their music preferences. It helps make the discovery process a whole lot easier by using algorithms to deliver users a personalized feed based on their listening habits. Whether you're a fan of hip-hop or alternative rock, SoundCloud will suggest songs and artists in similar genres that you might like.
Its capabilities benefit podcast hosts because it introduces listeners to similar shows that could help increase their visibility. Through SoundCloud, users can expand beyond what they already know and develop relationships with the music they love.
Spotify is renowned for its algorithms, many of which are incredibly technical and efficient at tailoring music to user tastes. With a solid listening history, Discover Weekly is one of the most beloved features, which presents listeners with a unique, tailored playlist packed with songs from both favorite and new artists.
Its technical audio quality ensures accuracy in predicting what each user will enjoy – so you can be sure the music it recommends is right up your alley!
Audio Quality
If you want original music from artists or labels, SoundCloud can be a great platform. However, the audio quality of its sound files can be lower than other streaming platforms or podcast players – with a streaming bitrate of 64kbps; it could certainly use an upgrade. In addition to original music from creators and music labels, many user-uploaded sounds can range from brilliant to abysmal in terms of quality.
Spotify has revolutionized the audio quality of songs in the music industry. With audio files up to 320kpbs and higher on desktop, mobile device users can experience a high-quality 96kb audio stream that injects life into every song. For those who prioritize audio quality when listening to music, Spotify is a top choice. By enhancing the audio quality of audio files, Spotify ensures that the songs you listen to are outstanding and sound amazing!
How To Upload a Podcast on SoundCloud
Sign up for a SoundCloud account
Signing up for a SoundCloud account is quick and easy. You must go to the official SoundCloud page, enter your email address and password, and hit the Create Account button. Then, confirm your email address and start exploring all of the exciting features offered.
Upload your podcast audio file to SoundCloud
Uploading a podcast audio file to SoundCloud is simpler than ever, as long as you have the necessary audio file saved on your computer. The first step would be creating a free SoundCloud account and logging in. Then, navigate to the 'Upload' page, and select the audio file from your local computer. After processing, you'll be prepared to share it with the world!
Create a track for your podcast episode
Creating a track for your podcast episode can be an exciting endeavor that leads to a truly engaging listening experience. To create a successful track, begin by finding the tone or theme of your episode and develop music that captures that emotion.
Depending on the content of each episode, you can choose between instrumental beats and relaxing melodies or upbeat instrumentals with loads of energy. To save time and resources, look for royalty-free music from reliable sites, such as Amazon Music Unlimited or Epidemic Sound—both provide numerous genre-specific tracks.
Add artwork for your podcast episode
Adding artwork to your podcast episode can make it stand out in a competitive market. Artwork is the featured image or logo associated with each downloaded or streamed episode of your podcast. To add artwork, you should create an entry for each episode on your podcast-hosting website.
When you upload the audio file, you will also be asked to include artwork, such as a banner picture or logo that will be associated with it.
Your audience and followers grow accustomed to seeing the same artwork for each episode, so it should be consistent and coherent with other imagery and branding across all platforms. Make sure the size of your image meets any hosting requirements to ensure optimal display when users access your podcasts.
Write a description of your podcast episode
Writing a description for your podcast episode is an integral part of the production process. It gives potential listeners essential information about the content of your show and can be used to draw them in. When creating a description, you must include the title and topic you're discussing in the episode, any guests that might appear, and how in-depth you plan to go on each topic.
How To Upload Podcast on Spotify
Create a Spotify account
Creating a Spotify account is pretty simple and only takes a few minutes. All you need to do is begin the process at Spotify's website – you can easily sign up with an existing Facebook or Google account, which streamlines the process even more.
If you have none of those, don't worry! You can still create an account with your email address and password. Once your basic information is in, pick out a display name that will appear when recommending music to friends or when they make playlists for you.
Upload your podcast on Spotify
Firstly, create an RSS feed of your podcast, including your podcast artwork, episodes, and associated metadata such as title and description.
Secondly, log into the content provider portal on the Spotify for Podcasters website, where you can initiate an onboarding request. Once approved, you can submit your series directly within the portal.
Finally, fill in all relevant details about the series and publish it to finish the upload process. Within 24 hours of submission, you will receive an email informing you if your podcast has been accepted or declined with constructive feedback to adjust any issues flagged. With patience and effort, it will soon be available for all users within Spotify!
Promote your podcast on Spotify
Promoting your podcast on Spotify requires some creativity and strategic planning. A useful first step is to familiarize yourself with the platform; take the time to navigate through the menus, explore various features and determine which options best suit you. You should also take advantage of the personalization options available for podcasts and use keywords related to your niche to ensure your podcast is discoverable.
Additionally, leveraging other social media platforms like Twitter and Instagram can help you build a following and direct people to the podcast page on Spotify. If you have the resources available, it may be worth investing in sponsored ads to gain visibility from potential listeners who might not otherwise know about your show.
Related: How to Submit Your Podcast to Spotify
SoundCloud Features
Whether you are an individual just starting or a business needing a platform to manage and distribute your content, SoundCloud has features that meet those needs. Following are some of its features:
Offers Brand Recognition and Promotion
With SoundCloud, you can create a unique presence for your podcast that stands out from the crowd. You can also promote it on other platforms by sharing links and embedding them on websites.
Easily Track Listenership Statistics
SoundCloud allows users to keep track of their podcast's performance and listener analytics with its detailed stats dashboard. This helps you understand how your podcast performs and what content resonates with your audiences.
Integration With Ads
SoundCloud also offers the option to integrate ads into podcasts, allowing users to monetize their content if desired. They also have partnerships with streaming companies such as Spotify, providing more opportunities for creators to make money through their content.
Spotify Features
Spotify provides users with an all-inclusive platform for hosting and distributing podcasts. Following are some features that make it a great place to host your podcast:
Audience Reach and Engagement
Spotify is one of the world's leading music streaming services, so its reach and engagement are much higher than other podcast hosting platforms.
Podcast Analytics and Insights
Spotify also offers detailed insights into your podcast's performance, allowing you to understand who's listening and why. This helps you tailor content to reach your audience better.
Integrated Advertising Platform
Spotify has an integrated ad platform that allows you to monetize your content. With this feature, you can create ads and place them within your podcast episodes for additional revenue streams.
SoundCloud & Spotify Cons
SoundCloud
Although SoundCloud has many advantages, there are some drawbacks to using this platform to host your podcast.
Limited Reach. SoundCloud is a great place to upload content, but its reach can be limited compared to other audio hosting platforms like Spotify. There may be better options than this if you want a large audience or global recognition.
Lack of Comprehensive Analytics. SoundCloud's analytics dashboard is also less comprehensive than other podcast hosting platforms. It needs to offer detailed insights into who is listening to your podcast, which makes it more difficult to grow and engage an audience.
Spotify
Spotify offers a great podcast hosting platform, but some drawbacks exist.
Longer Review Process. Spotify's podcast review process can be quite long, taking up to several weeks for a podcast to be approved and available on the platform. This may be better if you are trying to launch your podcast quickly.
Restrictions on Content. Spotify also restricts the type of content that can be uploaded, such as explicit language or images. This may limit what you can include in your podcast.
SoundCloud Pricing
SoundCloud has three pricing plans for podcasters:
SoundCloud Basic Plan
With this free plan, you get access to a range of features that allow you to upload up to 3 hours of content in real-time, wherever you are in the world. You can keep track of your audience engagement with basic insights like plays and downloads or connect with listeners through direct messaging.
Setting up your profile is easy – with a customizable URL for your followers to reach out at and a visually appealing app player for website embeds that lets you showcase tracks across the web.
Additionally, SoundCloud's Artist Relations team can help get you featured if needed, while their support button also makes it easy for fans to donate directly to you. There's no doubt that it's the premier podcast platform choice today!
SoundCloud Next Plus
SoundCloud Next Plus is a great option for SoundCloud users who want to take their music further. It's worth just $2.50 per month when you take advantage of the yearly billing option. From promoting your tracks on SoundCloud's discovery pages to monetizing track plays with fan-powered royalties, this plan will increase your reach and help you make money from your craft.
And the best part? With just one click, you can easily distribute unlimited tracks across all major music services, such as Spotify, Apple Music, TikTok, Instagram, and more. On top of that, you can even split payments with other musicians on SoundCloud or pitch for coveted slots on top playlists – all while having the ability to select what countries or regions you want to target!
SoundCloud Next Pro
This plan captures excellent value and affordability at only $12 per month (or $16 per month for the monthly billing option). SoundCloud Pro Unlimited offers exclusive access to advanced features to help you get the most out of sharing your music.
For instance, with an extended audio upload time of 6 hours and 45 minutes, you'll be able to upload longer tracks than ever before – perfect for those entire albums you've been sitting on! Plus, if you need to update your track at any point, you can do so without losing any listener insight stats. And for those who like full control over their playlists and tracks in SoundCloud, you can even turn off comments or pin your favorite tracks.
Spotify Pricing
Creating content can be full-time, but monetizing it can be challenging. That's why the company recently introduced 20 pricing points to give creators more flexibility when charging their audience.
While before, there were only three options to choose from ($2.99, $4.99, or $7.99 per month), you now have a variety of tiers that start as low as $0.49 and move up to $150, allowing content creators to find the best fit for their followers and fans. Whether you're just starting or are an established creator with many subscribers, these new pricing points can help maximize your income potential so that you can focus on what matters – creating amazing content for your followers!
As the music streaming industry continues to evolve, Spotify identified a need creators had when pricing their music – they wanted guidance on where to start.
As a result of this research finding, Spotify no longer allowed manual entry of pricing information but offered three recommended prices: $0.99, $4.99, and $9.99. According to the company, it was found that amongst these three options, $4.99 performed the best and will be the initial price you see when determining your pricing structure moving forward. This change is intended to make it easier for creators to determine their ideal price point for their music offerings.
Frequently Asked Questions (FAQs)
Is SoundCloud good for hosting podcasts?
Yes, SoundCloud is a great platform for hosting podcasts. Its large user base and built-in podcasting tools make it easy to upload, publish, and share your podcasts with listeners. Its royalty-free licensing agreement allows you to distribute your podcasts without worrying about copyright infringement. For further reading, you can check out our comparison guide for Podbean vs Soundcloud.
Do I need to pay for SoundCloud?
No, you don't have to pay anything to use the free version of SoundCloud. However, if you want access to more advanced features and increased storage space, you can upgrade to one of the paid plans.
What is Spotify podcast hosting's pricing?
Spotify provides creators with 20 different pricing points. The prices range from $0.49 to $150, giving content creators the flexibility to find the best fit for their fans and followers. Additionally, Spotify recommends a starting price of $4.99 for the creator's content which has been found to perform best among listeners.
What is SoundCloud Next Pro?
SoundCloud Next Pro is a great value and affordable subscription plan for those looking to take advantage of the platform's advanced features. It costs $12 per month (or $16 per month for monthly billing) and offers exclusive access to tools like extended audio upload time, up to 6 hours and 45 minutes, so you can upload full albums and the ability to turn off comments or pin favorite tracks.
In addition to these features, SoundCloud Next Pro also offers extensive track stats, unlimited audio uploads, and access to priority support.
With all of these amazing features and options, it's no wonder why so many creators are turning to platforms like SoundCloud and Spotify to host their podcasts. Giving creators the flexibility to price their content, access advanced features, and maximize income potential can help make podcasting even more rewarding for everyone involved.
Can I monetize my podcast on SoundCloud?
Yes, you can monetize your own podcast on SoundCloud. There are a few ways to do this. You can partner with an advertising network, like AdSense, and place ads on your podcast. You can also sell sponsorship slots to businesses or organizations. Finally, you can provide paid content through your podcasts, such as exclusive podcasts or bonus episodes that aren't available anywhere else.
Related: How Can Podcasters Make Money on Spotify?
What is the difference between Apple Podcasts and Google Podcasts?
The main difference between Apple Podcasts and Google Podcasts is the podcast host. Apple Podcasts are hosted on iTunes, while Google Podcasts are hosted on Google Play.
Aside from the host, there isn't much difference between the two platforms. They allow users to listen to podcasts, subscribe, and download episodes for offline listening. They also have built-in search engines that allow users to find specific podcasts or episodes.
The main advantage of apple podcasts over google podcasts is that it has a larger selection of podcasts. Apple hosts over 550,000 active podcasts, while Google only hosts about 400,000. So if you're looking for a specific podcast that's not available on Google, you can find it on apple podcasts.
Closing Remarks
If you are a podcaster looking for the best hosting platform, consider SoundCloud or Spotify. Both platforms have pros and cons, but they are both excellent choices. If you want more control over your podcast and great tools for promoting your show, then prefer SoundCloud.
However, if you want to reach a larger audience and don't mind giving up some control, Spotify is probably the better choice. Whichever platform you choose, make sure that you do your research and pick the one that is right for you and your show.