You may be asking yourself, "Why is everyone and their uncle starting a podcast?" And while there could be a long and complicated answer, the simple one would be "Value."
Value for the consumer and value for the producers of said podcast. In a world completely immersed in technology and media, podcasts are a shining star in brand awareness and content strategy for businesses, personal brands, and entertainment. Content creators continue to recognize that value and are seeing the beauty of creating podcasts in current media.
Consumers are Hooked on Podcasts
Consumers love podcasts. Whether it is a parent listening to a true-crime podcast while packing the kids' lunch bags, or a top executive listening to a mindset podcast from Tony Robbins, there is an ever-increasing demand for new and fresh content. It's estimated that the average person will consume over 8 hours of media in a single day. Brandtastic "49% of podcast listening happens at home, 22% happens while driving, 11% at work, and 8% while exercising." People enjoy using podcasts as background entertainment in their day-to-day lives.
YouTube held the attention of those looking for media consumption from creators, innovators, and media gurus. Now, podcasts have far superseded the ability of media to reach its consumers. Audiences continuously search for media to consume, learn from, and be entertained by. YouTube is still held to a high standard, but podcasting is becoming a revolution of its own to compete with the streaming giant.
However, podcasts are on the rise if the popularity and high consumption of decentralized media are anything to go by. Technology allows almost everyone to connect with someone else, no matter the miles between them. Although Spotify boasts 13 different categories for podcasts, the top five most popular categories are society, culture, business, comedy, news, and politic and health, according to Music Oomph! These expansive listening libraries allow people to consume the information they are interested in and not content that monopoly giants in media dictate.
Podcasts empower the consumer, allowing them to choose what they want to listen to and feel entertained by media. But how can podcasts empower the creator, and why are they continuing as a media popular media format?
Podcasts are the BEST Branding Vehicle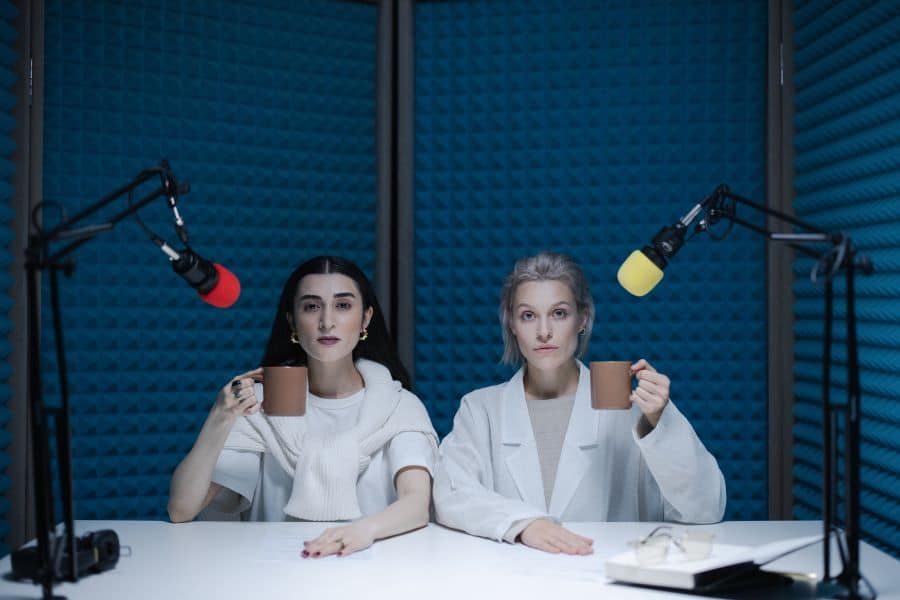 Mark Metry is a Forbes Top 100 Mental Health Podcaster and the brains behind the Podcast Acceleration Program, which helps anybody and everybody to start a podcast. He states that he has "never seen a professional tool that can spread an idea and grow a brand like the vehicle that is podcasting."
Let's take a moment to unpack this with an example. Joe Rogan is the host of The Joe Rogan Experience, which has hosted guests like Elon Musk, presidential candidate Bernie Sanders, and Edward Snowden, a computer analyst who leaked highly classified information from the NSA in 2013. Joe Rogan's awareness and exposure vastly outweigh all mainstream news sources combined. Audiences are far more likely to enjoy a 2-hour long podcast that accesses deeper information, discusses more complicated ideas, and reveals some of the personalities behind the hosts and guests. A 5-minute news segment cannot rival these important elements that a podcast can deliver.
A library of podcasts is also a huge resource for businesses and content creators to repurpose content across platforms like blogs and social media. YouTubers are doing this in reverse and are repurposing their old content into podcasts to tap into today's more mainstream media consumption.
You may wonder if podcasting is still relevant in an age with such dense media consumption. We already know that there is a high demand for content, which is unlikely to change any time soon. Creating a brand voice translates into sales in this day of modern media by building trust with buyers and audiences.
There is no Glass Ceiling on Podcasts.
Money is an essential factor in every person's decision-making process. Quality content sells products and garners collaborations and ad revenue on podcasts. Returning to our example of The Joe Rogan Experience, Rogan makes roughly $100,000 per episode. While not everyone is likely to make that number, selling possibilities are endless and relatively passive through podcasting.
Spotify, Apple, Facebook, and other multinational media companies have seen the vast untapped potential in podcasts and are moving to tap into the proverbial goldmine of podcasting. Podcasters are taking advantage of these changes. Spotify is investing in becoming the number 1 podcasting platform worldwide and launched its version of a subscription platform called Anchor for podcasters in April 2021. Apple also expanded its affiliate program, Apple Services Performance Partner Programme, for podcasters in May 2021, allowing podcasters to earn commissions through their shows/
Salesmen used to be recognized for their neat suits, suitcases, and greased back hair. This "uniform" allowed people to cross to the other side of the street when they saw anyone in this uniform. Sales strategies have changed since then. In 2022, people are buying into ideas and the people behind brands rather than the goods themselves. For most people to buy a product, trust is an important and desirable sales tool that businesses use social media, content, and podcasts to establish with their customers. A podcast will communicate the company's vision which entices sales to their businesses.
Getting into Podcasting is *Easy*
Podcasting is relatively *easy* to tap into. Or should we say accessible? While there may be start-up costs like investing in a good mike and other sound engineering equipment, once those are out of the way, it is fairly straightforward to record a podcast, edit it, and upload it to multiple free streaming platforms like Spotify or Apple.
Podcasts are not easy to maintain, and podfading is a phenomenon where podcast shows stop producing new content. It's approximated that 75% of podcasts are in a fade-out. This could seem a little discouraging to starting a podcast, but it shows there is an enormous demand for content in the form of podcasts. This phenomenon, combined with the earning potential, is why everyone is starting a podcast.
Related: Start a Podcast People Will Listen To [2023 Guide]
Conclusion
Not everyone is starting a podcast. But maybe everyone should be? This high-demand media format reaps content, monetary, and sales benefits that are only set to grow in the coming years. It adds value to consumers and to creators alike, no wonder businesses are now jumping on the opportunity to create their own podcasts.