Are you looking for the best dynamic microphone for your podcast? Are you a singer, musician, or podcaster in need of a microphone that will capture your vocals with pristine clarity? Or perhaps you're on the hunt for a microphone that can maintain its clarity and brightness even in high-volume recordings? Whatever your needs might be, there are many great dynamic microphones to choose from.
In this guide, we'll take a close look at some of the best dynamic mics available today for your podcasting. We'll discuss their features, performance capabilities, and sound quality so you can make an educated decision on the right microphone for your podcasting needs. Let's get started!
The 10 Best Dynamic Microphone For Podcasts
This section lists our top ten picks for the best dynamic microphones for podcasts.
1. Shure SM7B Vocal Dynamic Microphone
The Shure SM7B vocal dynamic microphone features a smooth and even frequency response for the natural and clean reproduction of both speech and music. The built-in Air Suspension Shock Isolation protects from mechanical noise and outperforms regular foam windscreens in filtering speech breathiness.
It allows you the flexibility of a flexible XLR connection along with an audio interface, so you can sing or speak comfortably at any angle while still capturing sound just as you want it. With at least 60dB of gain available for outstanding sound quality, the Shure SM7B Vocal Dynamic Microphone offers professional streaming capabilities in one high-quality package.
With advanced electromagnetic shielding and built-in technology designed to defeat hum, this microphone is perfect for close-miking instruments and ASMR audio. Plus, its rugged construction not only ensures that your audio is crystal clear but also secures the cartridge.
You can even customize your settings with a bass roll-off and mid-range emphasis (Presence Boost) control, which comes complete with a graphic display of the response setting. The package includes one A7WS detachable windscreen and one RPM602 switch cover plate plus a free two-year warranty. Read our guide on how to position the Shure SM7B to get the best sound.
Key Features
Electromagnetic shielding
Smooth and even frequency response
Built-in Air Suspension Shock Isolation
Flexible XLR connection
Outstanding sound quality
Rugged construction
2. Rode PodMic Cardioid Dynamic Broadcast Microphone
When it comes to finding the right microphone for your audio needs, look no further than RØDE Microphones' PodMic cardioid dynamic broadcast microphone. This powerful piece of equipment is perfect for video conference services, singing, and karaoke due to its superior unidirectional polar pattern that prevents your recordings from being filled with distracting noises.
Its XLR connector makes connecting it a breeze, while the included PSA1 allows you to get the most out of your recordings. Plus, with the mute function and voice-activated recording options at your disposal, this microphone gives you total control over your recordings.
Available in a sleek black color, this lightweight yet durable device is sure to make any audio project go off without a hitch. The main reason why this microphone is a top choice for many audio professionals is its ability to provide an extremely clear and natural sound.
With a frequency response of 20 Hz – 20 kHz, the PodMic will make your recordings crisp and accurate to ensure you get superior-quality audio every time.
You can also check out our comparison guide on Shure SM7B vs Rode PodMic.
Key Features
Cardioid polar pattern
Unidirectional microphone
XLR connector
PSA1 included
Voice-activated recording ability
Mute function
20 Hz – 20 kHz frequency response
3. Samson Technologies Dynamic Microphone
Coming from the world-renowned Samson Technologies, the Samson dynamic microphone is the perfect choice for all your audio needs. Whether you're creating projects for podcasting, streaming, or taking part in calls, this handheld dynamic microphone has you covered. It has both USB digital output and XLR analog output for easily connecting to a mixer, audio interface, or portable PA system.
This dynamic microphone capsule, with its cardioid pickup pattern, captures sound waves from every direction while minimizing ambient sounds and other room noises. On top of capturing great sound quality, the Q2U also features an onboard 1/8″ (3.5mm) headphone jack which allows for zero-latency monitoring. Additionally, the solid die-cast construction and heavy gauge mesh grille ensure that it is built to stand up to even the toughest environments.
With its plug-and-play setup, that doesn't require any special drivers, it's a no-hassle solution with great sound quality. Not only do you get the high-quality mic itself, but you can also add an extended desktop stand and a pop-filter along with USB and XLR cables, which makes setting up your audio system easier than ever before! This dynamic mic is the perfect device for recording podcasts, YouTube videos, and more – start mixing and creating with the maximum ease of use today!
Key Features
USB/XLR Connectivity
Cardioid Pickup Pattern
1/8" (3.5mm) Headphone Jack for Zero-Latency Monitoring
Solid Die-Cast Construction and Heavy Gauge Mesh Grille
Includes USB & XLR Cables, Extended Desktop Stand, & Pop Filter
4. Audio-Technica ATR2100x-USB Cardioid Dynamic Microphone
The Audio-Technica ATR2100x-USB cardioid dynamic microphone is a must-have for anyone looking to take their audio recording up a notch. The durable metal construction provides an extended frequency response, ensuring a fuller and more natural sound.
In case you're connecting this microphone to your computer for digital recording or pairing it with your sound system for analog recording, the job can be done with ease as this mic has both USB-C and XLR outputs, as well as an on/off, switch those functions universally between both. What's more, it even has a built-in headphone jack so you can monitor your recordings in real-time.
Its cardioid polar pattern reduces the number of unwanted sounds picked up, making for much-improved sound quality. Coming with a low-mass diaphragm and high-quality 24-bit, up to 192 kHz sampling rate audio converter, your recording will be top-notch.
Not to mention, its sturdy tripod desk stands and threaded clamp allows for a quick and easy setup on either a tripod or conventional microphone stand. And for convenience, you get three cables – USB-C to USB-A, USB-C to USB-C, and XLRF to XLRM – perfect for whichever connection you might need!
Key Features
Durable metal construction
Extended frequency response
USB-C and XLR outputs
On/off switch for universal use
Built-in headphone jack
Cardioid polar pattern for better sound quality
Low mass diaphragm and high-quality 24bit up to 192 kHz sampling rate audio converter
Sturdy tripod desk stand and threaded clamp
5. Behringer XM8500 Dynamic Microphone
The Behringer XM8500 dynamic microphone is a one-of-a-kind dynamic vocal microphone that brings out the clarity and skill in every singer's sound. With its cardioid pickup pattern, this professional-grade microphone has a frequency response of 50Hz to 15KHz for an accurate, full-range response. It even comes with an ergonomic stand for hassle-free setup and adjustment.
Featuring an XLR-3M type connector for compatibility with amplifiers, this black beauty is sure to help singers deliver their best sonic performance. You can feel the phantom power and clarity of the Behringer XM8500 as soon as it's in your hands. Check out our review on Behringer XM8500 and why it works for podcasting.
In case you're mixing, recording, or performing live, the Behringer XM8500 dynamic microphone is the perfect tool for creating a clear, professional-sounding sound.
Key Features
Cardioid pickup pattern
Frequency response of 50Hz to 15KHz
Ergonomic stand included
XLR-3M type connection for compatibility with amplifiers
Robust design for long-lasting performance
6. PreSonus Revelator Dynamic USB Microphone
The PreSonus Revelator dynamic USB microphone is the definition of professional-grade audio capturing clear and consistent vocals with superior off-axis rejection. From the custom-designed capsule to the professionally crafted presets, you can count on exceptional performance even in the most challenging recording environments.
Moreover, the incorporated mixer with two dedicated loopback audio channels offers a customizable mix to easily add backing tracks, gameplay audio, Skype calls, podcasts, and more. The PreSonus Revelator delivers premium sound on a bus-powered USB-C compatible dynamic microphone.
It comes with onboard processing, so you don't need extra gear to get started. And it even comes with its own recording software, including Studio One Artist DAW and the Studio Magic Software Bundle, which includes music tutorials, sound samples, and virtual instruments.
Plus, it's powered by your connected USB-C device for convenience. And don't forget about the included desktop stand – all you need is to plug in and start recording! The Revelator Dynamic makes a perfect addition to any home recording setup.
Key Features
The custom-designed condenser microphone capsule
Professionally crafted presets
Integrated mixer
Two dedicated loopback audio channels
Onboard processing
Studio One Artist DAW and Studio Magic Software Bundle included
Powered by USB-C device
Includes desktop stand
7. Razer Seiren V2 Pro USB Microphone
Whether you're an emerging audio enthusiast or a professional voiceover artist, the Razer Seiren V2 Pro USB microphone is an exceptional choice. It captures crystal-clear sound with its incredible low end and greater noise suppression compared to traditional cardioid mics for superior vocal clarity in any environment.
The High Pass Filter, activated via Razer Synapse, lets you adjust the frequency cutoff point, making it perfect for capturing speech or singing vocals. And, thanks to the Digital Analogue Limiter programmed to automatically prevent clipping and peaking, your audio will come out sounding smooth and powerful.
Not only is it equipped with mic monitoring and a built-in shock absorber and windsock to prevent pops and hisses, but it also comes with convenient gain control and mute button – easy access volume, mic gain, and mute buttons are all located on the mic itself.
Key Features
Incredible low-end and greater noise suppression
High Pass Filter activated via Razer Synapse
Digital Analogue Limiter to prevent clipping and peaking
Mic monitoring with built-in shock absorber and windsock
Convenient gain control and mute button
8. Shure BETA 58A Vocal Microphone – Single Element Supercardioid Dynamic Mic
The Shure BETA 58A vocal microphone is perfect for the singer or speaker looking to capture their best sound. With its tailored frequency response featuring a brightened mid-range, and bass roll-off to control the proximity effect, this microphone will produce an amazing result. With its superior rejection of off-axis sound and uniform super-cardioid pattern, as well as a neodymium magnet for high signal-to-noise output, the BETA 58A ensures you will always sound your best.
The hardened steel mesh grille provides extra protection for your equipment, while the advanced pneumatic shock mount system helps ensure optimal audio quality.
This versatile microphone offers legendary Shure quality and reliability, paired with powerful features like minimally compromised performance regardless of varying load impedance. The box even includes an A25D Adjustable Stand Adapter, a 95A2050 5/8" to 3/8" (Euro) Thread Adapter, and a 26A21 Storage Bag to keep your investment safe at home or on the go.
Key Features
Hardened steel mesh grille for extra protection
Neodymium magnet for high signal-to-noise output
Uniform super-cardioid pattern for superior rejection of off-axis sound
Advanced pneumatic shock mount system to reduce handling noise
Tailored frequency response featuring a brightened mid-range and bass roll-off
Minimally compromised performance regardless of varying load impedance
Wired Connectivity
9. Electro-Voice RE20 Dynamic Microphone
The Electro-Voice RE20 dynamic microphone is a versatile microphone that's perfect for those looking for professional-quality sound. Offering condenser-like performance, it provides a smooth and natural audio character with plenty of controlled power. Furthermore, its Variable-D design, internal pop filter, and element shock mount are designed to deliver optimum performance and reduce any unwanted noise.
With steel casing and hum-bucking coil, this mic is suitable for an array of uses, including podcasting, voiceover work, talk shows, radio broadcasting, and music production. Whatever you do with it, you're sure to get results that are stunningly detailed and crystal clear.
Key Features
Variable-D design
Internal built-in pop filter
Element shock mount
Hum-bucking coil
Steel casing
Smooth, natural audio character
Excellent sound rejection
10. MXL BCD-1 Dynamic Broadcast / Podcast Microphone
If you're searching for a top-of-the-line dynamic microphone with warm, rich tones perfect for singing, the MXL BCD-1 podcast microphone is an outstanding choice. This sleek black microphone includes a built-in swivel mount for convenient placement, and a sturdy BCD stand to anchor it in place.
The MXL BCD-1 provides pristine sound quality with its unidirectional polar pattern, along with all the essential components you need—a carrying case, windscreen, and MXL Complete bundle are all included!
In case you're recording in your own home studio or on a professional stage, the MXL BCD-1 ensures seamless audio capture every time. And with its high-quality construction, this dynamic microphone is sure to last for years to come. Make your next vocal recording unforgettable with the MXL BCD-1: a powerful dynamic microphone that will help you capture every note in stunning detail.
Key Features
Built-in swivel mount for convenient placement
Sturdy BCD stands for secure installation
Unidirectional polar pattern for pristine sound quality
Includes carrying case, windscreen, and MXL Complete bundle
High-quality construction ensures years of reliable use
These ten dynamic microphones are among the best you'll find on the market today. From industry-standard models to budget-friendly options, each one offers excellent sound capture and a variety of features that make them ideal for your recording needs.
What To Look For In A Dynamic Microphone?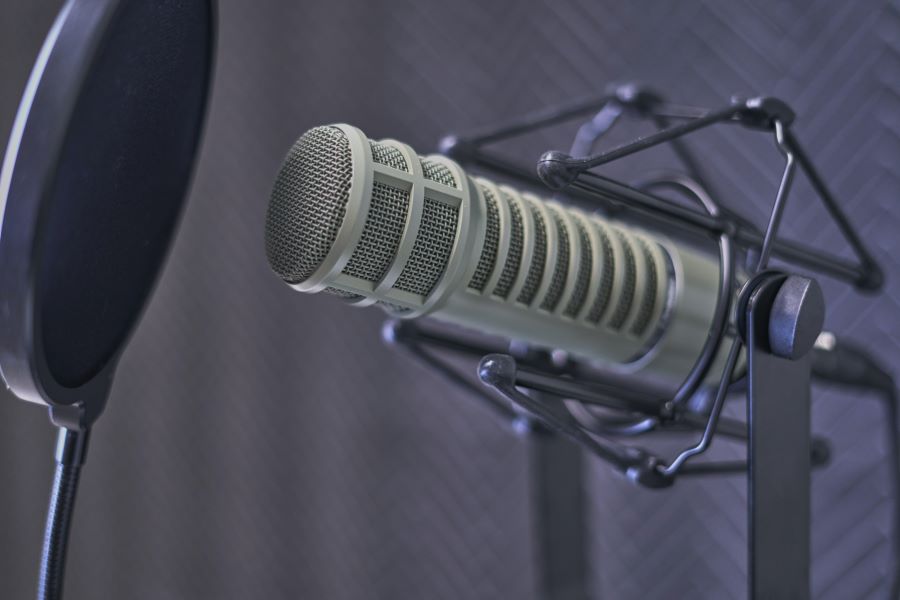 Now that you've seen some of the top dynamic mics out there, you're probably wondering which one is right for you. Luckily, there are a few key features to look for when shopping around:
1. Polar Pattern
When looking for a dynamic microphone, the polar pattern is one of the most important features to consider. Polar patterns determine how sensitive the mic will be to sounds coming from different directions. The most common polar patterns are cardioid, super-cardioid, and figure-8.
Cardioid microphones: Cardioid microphones are more directional than other types and focus on picking up sounds from one main direction.
Figure-8 microphones: Figure-8 mics are more sensitive to sound coming from the front and back.
Super-cardioid microphones: Super-cardioid mics sit somewhere in between these two, providing a balance of both directional and ambient pickup.
Depending on your needs, one of these polar patterns might be better than another so it's important to consider which type would work best for your setup.
2. Frequency Response
The frequency response of a microphone is an important factor in determining the overall sound quality. The best dynamic microphones have extended low-frequency and high-frequency responses, enabling them to capture a wide range of sounds accurately.
Many professional microphones offer tailored frequency responses for specific applications, such as drums or vocals. When choosing a dynamic microphone, consider the type of sound you're looking to capture. Some microphones are designed to accentuate certain frequencies, while others are more neutral–offering a flat frequency response across the board.
The best dynamic microphones will also offer low self-noise levels, meaning they won't produce any unwanted background noise when recording. This is especially important in applications where capturing subtle nuances of sound is essential, such as acoustic instruments or natural ambiance. Additionally, the best dynamic microphones should have a high maximum SPL (high sound pressure levels), allowing them to handle louder sound sources without distorting.
3. Durability
The best dynamic microphones are known for their durability. They work on the principle of electromagnetism, which means they don't require any extra parts or pieces to function. This makes them extremely resilient and able to withstand wear and tear better than other types of microphones. Plus, the metal construction protects them from dust and weather damage- making them ideal for outdoor use.
If you're looking for a reliable, long-lasting microphone, you can't go wrong with a dynamic model. It's the perfect choice for any project that will require a microphone over an extended period of time. With proper care and maintenance, your best dynamic mic should last you many years to come!
4. Price
When it comes to microphones, the price can be a major factor in deciding which one is the best for you. However, when it comes to dynamic microphones, there is quite a large range of price points available. Generally speaking, the more expensive dynamic mics tend to offer better sound quality and durability.
If you are looking for a good all-around dynamic microphone, expect to spend anywhere from $100-$300. At this range, you'll find plenty of great options that will offer good sound quality and durability without breaking the bank.
However, if you are looking for a professional-grade dynamic microphone, expect to spend over $400. These microphones usually provide excellent sound quality and long-lasting durability. Ultimately, the price you pay for your dynamic microphone will depend on your budget and what sound quality and features you need.
Related: How Much is a Mic?
5. Connectivity
Most dynamic mics have a standard XLR connection, allowing them to be plugged into nearly any sound system or recording setup. This makes them great for live performances, as well as in studios, podcasts, and much more. Check out our list of best XLR cables.
With the help of an adapter, some dynamic mics can even be used with USB connections. The versatility of these microphones allows you to use them for a variety of different applications and settings.
The type of connection used by a dynamic mic will depend on the model and brand, so be sure to check before you buy. Some models may even have multiple types of connections, allowing for greater flexibility when it comes to setting up your recording or live performance setup. With their wide range of connectivity options, dynamic mics are sure to have a connection that meets your needs.
6. Accessories
When shopping for a dynamic mic, it's important to look for any included accessories like:
Shock mounts: An internal shock mount helps to isolate the mic from outside vibrations and noise.
Windscreens: This can help reduce wind noise, pops, and other ambient sounds.
Carrying cases: Look for a microphone that comes with its own case or pouch so you can store it safely when not in use.
Cables: If a mic doesn't include the necessary cables, you may have to purchase them separately.
Pop filters: A pop filter helps to reduce harsh "p" and "b" sounds from being picked up by the mic.
Isolation foam: Isolation foam helps to absorb sounds from adjacent instruments, so you can get a more focused recording.
These accessories can all help to improve the quality of your recordings, so it's worth looking for a dynamic mic that includes them.
7. Warranty and Support
When investing in a microphone, it's important to consider the warranty and support that comes along with it. Make sure you purchase from a reputable company that offers excellent customer service, should you ever need assistance with your product. Look for a manufacturer who provides an extensive warranty and guarantees the quality of their product.
Additionally, look for a company that offers technical support and has knowledgeable personnel who can answer any questions you may have about your microphone. With the right warranty and support, you can be sure that your dynamic microphone will last for years to come.
8. Reviews
Before committing to a dynamic microphone, it's always worth reading reviews from other users who have purchased the same product. This can help you get an idea of how well the mic performs in real-world settings and if there are any issues with it that you should be aware of before making a purchase. Sometimes reviews can be biased, so it's important to read a few different sources before making your decision.
If possible, try and find reviews from experienced audio engineers or vocalists who have used the mic in question – this will give you a better idea of its performance than more general user reviews. With some research and time spent reading reviews, you can make a more informed decision when it comes to buying the best dynamic microphone for your needs.
When shopping for a dynamic microphone, it's important to consider all of these factors in order to get the best one for your needs. Keep in mind that there is no one-size-fits-all solution – different mics have different features and may work better in certain applications than others. Do your research, read reviews, and consult with an expert to find the right microphone for you. With the right dynamic mic, you can be sure that your recordings will sound professional and clear every time.
Related: Best Microphones For Recording in Podcasting
How To Use A Dynamic Microphone?
Using a dynamic microphone is relatively straightforward, although there are some important steps to keep in mind.
Step One: Positioning The Microphone Is Key
You want to make sure that the microphone is close enough to the sound source and be sure to keep it at an angle rather than directly facing it. Because dynamic microphones don't require a power source, you can move the mic around until you find the right spot to get the sound you want.
Step Two: Adjust Your Input Settings
Many modern dynamic microphones require an XLR cable plugged into an audio interface. Make sure your interface is set to receive a balanced signal and that the gain levels are set correctly.
Step Three: Connect The Microphone To Your System
Depending on what type of dynamic microphone you have, you may need an XLR cable or a quarter-inch cable. Plug one end into the microphone and the other into your audio interface. If you're unsure which type of connection is right for your mic, check the user manual.
Step Four: Start Recording
Once your microphone is connected and the gain levels are set, you're ready to start recording. Be sure to take a few test recordings to make sure everything is functioning properly before you begin recording for real. Sometimes, increasing the gain levels slightly can help to amplify the sound a bit more.
Step Five: Monitor And Adjust As Needed
When recording with a dynamic microphone, it's important to listen closely to what you're recording while you do it. If you notice that something isn't sounding quite right, make adjustments in real time or pause the recording and adjust the settings before you start again. This will help ensure that you get the best sound possible from your microphone.
Step Six: Enjoy The Results
Once you've recorded everything, sit back and enjoy your newly created audio. You can now use it in a podcast, upload it online or even create a CD or vinyl version of the track. With a dynamic microphone, you'll be able to produce professional-level audio that sounds great.
Related: Podcast Mic Setup: Everything You Need to Know
FAQs
Is a dynamic mic better?
In the world of audio recording, the debate of which microphone is better continues to rage. While using a dynamic mic may bring very different results than other kinds, like condenser mics and ribbon mics, there are some definite pros to choosing this option.
For starters, many find that their sound reproduction is at least as good or better than those recorded with other types of mics – dynamic mics have long been trusted for their ability to capture sound faithfully in every use case.
They can also pick up higher frequencies as well as block out excess noise from other parts of the room since they naturally reject sounds coming from behind them and just focus on what comes directly in front. For these reasons and more, dynamic microphones should definitely be considered when selecting audio equipment.
Are dynamic mics worth it?
If you're unsure whether dynamic mics are worth investing in, the answer is an unequivocal yes! Dynamic microphones provide excellent vocal clarity and don't suffer from feedback as easily as condenser microphones.
They also handle strong and sharp transient signals much better, making them great for recording drums or baselines in a studio. Moreover, they tend to be relatively more affordable than their condenser counterparts, providing budget-friendly sound quality for any recording project.
What is the best dynamic mic?
The answer to this question really depends on your needs and what type of sound you are trying to capture. However, some models consistently stand out as favorites among audio professionals. The Shure SM7B, for example, is a popular choice for live performances due to its rugged construction. Plus, its wide frequency response gives it a unique sound that other mics can't replicate.
The Audio-Technica ATR2100x is also highly regarded, as it has a smooth, detailed response and is perfect for capturing instruments, recording vocals, and even the occasional crowd noise. Ultimately, the best dynamic mic for you will depend on your own specific needs and what kind of sound you need to capture.
Conclusion
All the products mentioned above are great dynamic microphones, but it's important to make sure you find the right one for your needs. When buying a dynamic microphone, always take into account the type of sound you need to capture and ensure that any product you buy can handle those requirements.
If you're still unsure, it's always a good idea to go through the reviews and hear what real customers have to say. With the right dynamic microphone in your hands, you can easily capture the professional-level sound that will bring your projects to life!